Previous Page
General Info
Morotai Island is in the Halmahera group of eastern Indonesia's Maluku Islands (Moluccas). It is one of Indonesia's northernmost islands.
It is a rugged, forested island lying to the north of Halmahera. The island's largest town is Daruba, on the islands south coast, and it is here that a new marina was built in 2015/16.
Position: 02° 03'05″N, 128° 17'23″E (Daruba Marina)
Docking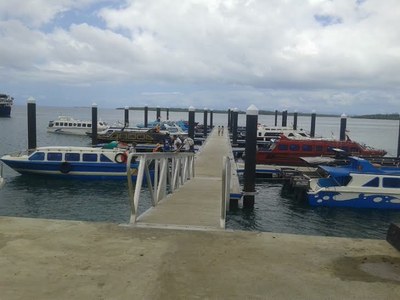 The new marina (photo courtesy of Andreas Franke) has space for approx. 20 yachts with depths of 3-4m. Water and diesel can be obtained via mini-tanker, just speak with the harbourmaster who is very helpful.
The marina is in a delightful spot, with very clear water and beautiful islands nearby. Provisions are plentiful in the local town but there are no marine services here.
Last updated: June 2016.
Related Businesses
Marina Daruba

Address: Morotai, Eastern Indonesia - Halmahera, Indonesia,

Position: 002.04.05781 N / 128.28.92465 EFloating pontoons with finger berths and piles. Plenty of shoreside cleats. Depths approx. 4m. Whilst the docks here currently have... Read More
Places
Eastern Indonesia - Halmahera, Indonesia, Morotai