Previous Page
General Info
Located on the northern tip of West Papua, Sorong is the gateway to the Raja Ampat Islands. Not a particularly attractive town, it is the port for the oil and gas industry.
There is good provisioning here and more 'western' foods can be found.
SY Segue visited Sorong in June 2016 and their impressions of this port can be found here.
There have been some recent near-misses with positions being taken from the paper charts for the Sorong area. Paper charts and GPS can vary up to 500m. Please take care when using paper charts for primary navigation.
Security
Security in the Sorong area is still a concern if the boat is to be left unattended at anchor.
Theft from vessels in the harbour has been reported in the past and some boats have been raided twice during their stay here. The target gear that thieves go for is outboard motors, jerry cans of fuel, computers and mobile phones. See Related Reports.
Security grills on hatches are helpful and assist with ventilation. It is best to leave at least one crew member on board and make sure that target items are carefully and securely stowed. Keep the decks well lit at night.
Last updated: March 2019
Position: 0°53'28″S, 131°15'51″E
Clearance
This is is an official Port of Entry.
NEW Indonesian CIQP procedures came into effect from the 27th February 2016.
See Indonesia Formalities for full details.
This report by SY Segue has useful step-by-step instructions on how to clear-in here.
Note – it is not possible to get a visa on arrival here.
Last updated: March 2019
Docking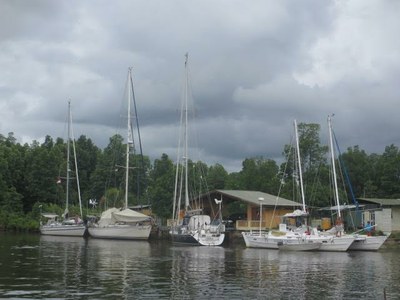 Entering the 'lagoon' should only be done during daylight and requires keeping a good lookout for reefs.
Sudden tropical storms (that at times can be severe) can cause problems in the main Sorong harbour area, with boats dragging and anchors becoming entangled.
The authorities seem to be discouraging anchoring inside Sorong harbour and there's a massive reclamation project going on in the outer bay. This means that anchoring anyway here is difficult. Doom Island is the only other possible anchorage.
Security in the main harbour is also a problem. It may be that groups of young people who paddle out to yachts to "say hello" and sometimes request photos with owners are in fact "casing" the boat for easily stolen items. It is advisable to come up with a good excuse for not inviting people on board. Once an item has been stolen there is virtually no chance of recovering it via the police system. Police boats are inactive and the harbour is10km long. So far thefts have not been accompanied by direct confrontation or threats of violence. Good lighting at night is a deterrent but having people on board is the safest option.
Warwick Alliston of Helena Marina can organise guardinage.
SV Adamastor has submitted a detailed report about anchoring in Sorong Harbour in February 2018.
There are some docking and mooring options available which, while they are a little distance from town, offer security and peace of mind.
Doom Island
Cruisers visiting in June 2016 recommend anchoring at position 00 52.9200 S / 131 14.2080 E. A very friendly local called "John" lives on the waterfront here and yachts can anchor in front of his house in approx. 20m in the sand.
John's family will take care of your dinghy for you while you explore ashore. He can also help with obtaining diesel and transport.
Tel: +62 821 8388 8844
Soof Island
Position: S 00 53.452 E 131 12.382
New public mooring part of the Soof Island Reef Protection Project, 3.2 kms (two miles) from Sorong City. No fishing and no anchoring zone marked by white buoys. Very tranquil place.
The Soof project included installing a mooring which, day boats and overnight yachts (<15m) may use instead of anchoring, first come first served. Cost: Rp100.000/night or +50,000 if you are leaving the boat unattended and want someone to guard it overnight (Sep. 2017). Mooring located just off the beach on the NE end of Soof Island, installed April 2017. Depth 12m, easy diving to inspect ground tackle.
Managed by a local family (Adiryan, Maria and children). There is a reasonable toilet/washroom with good quality well water. No rubbish, no provision (2 mile trip into town). Dinghies must be pulled up the beach.
Good protection from most directions except SE, however, there is very little fetch. Everyone is encouraged to snorkel or dive on the adjacent reefs.
For more information download the Soof Island Reef Protection Project Summary.
Last updated: March 2019
Places
Eastern Indonesia - Papua, Indonesia, Sorong