Previous Page
General Info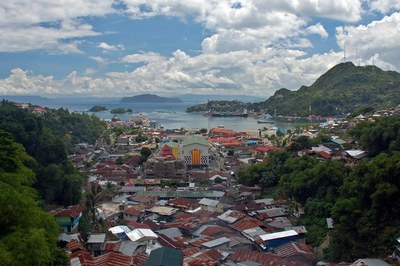 Description:
Papua's original capital and busiest seaport, Jayapura are situated on Papua's Northern coast, close to the border with Papua New Guinea. It is Papua's largest city.
Photo from sv-totem.blogspot.com (December 2012).
The nearby town of Sentani is the hub of air transport both to and around Papua, however international travel to this region is almost non-existent. The area around Jayapura and Sentani has a lot to offer, including scenic bays with good beaches, a huge freshwater lake with islands big enough to support villages plus a healthy tradition of woodcarving and painted bark-cloth manufacturing.
Jayapura port itself, however, is very polluted.
The entrance to Jayapura has a number of floating devices moored outside at a distance of several miles, and they have no lights. It is recommended to enter and leave during daylight.
There is a PNG consulate in Jayapura.
Position:
02° 32'35″S, 140° 44'E (harbour entrance)
An unexpected stop lead to a fixed boom and new friends in this interesting city – by SY Tenaya (May 2015)
Clearance
Jayapura is not on the current Ports of Entry list for Indonesia. The Port of Entry for this region and Papua is Biak.
However, recent reports indicate that it is possible to clear in here. If you have registered with the online system, be prepared to have to do the clearing in process manually if officials are not able to access the documentation on their computers.
Not all authorities are present so you will have to clear in with Customs in Biak.
While the process can take a few hours, officials from all departments are reported to be very polite and extremely helpful.
See Noonsite Indonesia Formalities for full details on clearance procedures for Indonesia.
Last updated: December 2019
Related Businesses
PT. Seriti Bahari Nusantara Hellen Saita de Lima, Sh.

Address: Jakarta & Ambon, Indonesia,

Clearance and shore support services. Hellen has a Licence from the Indonesia Government to be an agent for all Yachts. Good English spoken.

Another email address:... Read More
Docking
Be aware that there are many large FADs at the harbour entrance.
There is deep water right off the city centre and the police dock adjacent to a small neighbourhood makes for a safe place to leave the dinghy (look for this dock at the N end of the bay with a smaller police boat or two tied up to it). Avoid low tide however when retrieving your dinghy, as this can be an unpleasant experience amongst the sewage and refuse. Most of the families in this neighbourhood are associated with the adjacent intelligence police presence and will keep an eye on your dinghy. The water here, however, is not very clean, but it's a useful place to stop for clearance.
After clearing in, you may prefer to move to the more sheltered anchorage in the SW part of the harbour, on the south side of 2 small islets covered in stilt villages. Watch for reefs you must go around to tuck into this spot. It can be entered from the north through a deep marked channel in the reef. The water here is much cleaner. The anchorage is in 20m mud, right in front of a small causeway leading out to one of the islands. This is closer to the Hamadi neighbourhood, which has a thriving open market. Lots of curious and friendly Papuan families from the adjacent stilt villages will stop by your boat.
There are many other anchorage possibilities in the area.
Diesel can be delivered by a local small boat owner or can be taken in jerry cans from the service station across the road from the waterfront market.
Very few people speak English here however everyone is reported to be very welcoming and friendly.
Last updated: November 2015.
Courtesy Flag

YachtFlags.com offers a discount to Noonsite members.
YachtFlags.com provides high quality courtesy flags that are manufactured in durable Knitted Polyester fabric. Knitted so that the fabric itself does not deteriorate in the constant movement that marine flags are usually exposed to, and polyester so that the flag does not weaken in the strong UV-light usually found in the main sailing areas of the world.
Use the coupon code NOONSITE_5A2B when checking out to get 10% off today.
Buy Now On YachtFlags.com
Places