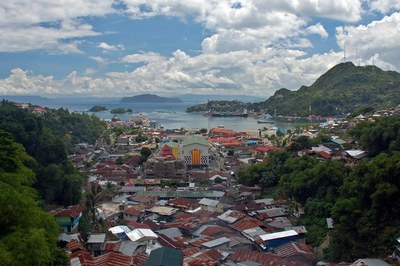 Description:
Papua's original capital and busiest seaport, Jayapura are situated on Papua's Northern coast, close to the border with Papua New Guinea. It is Papua's largest city.
Photo from sv-totem.blogspot.com (December 2012).
The nearby town of Sentani is the hub of air transport both to and around Papua, however international travel to this region is almost non-existent. The area around Jayapura and Sentani has a lot to offer, including scenic bays with good beaches, a huge freshwater lake with islands big enough to support villages plus a healthy tradition of woodcarving and painted bark-cloth manufacturing.
Jayapura port itself, however, is very polluted.
The entrance to Jayapura has a number of floating devices moored outside at a distance of several miles, and they have no lights. It is recommended to enter and leave during daylight.
There is a PNG consulate in Jayapura.
Position:
02° 32'35″S, 140° 44'E (harbour entrance)
An unexpected stop lead to a fixed boom and new friends in this interesting city – by SY Tenaya (May 2015)
Read and Post Related Comments
If you have information for this section, or feedback on businesses used, please let us know at [email protected]. We also welcome new information about businesses you have used (see Related Businesses).