Previous Page
General Info
Located off the northwest tip of Bird's Head Peninsula on the island of New Guinea, in Indonesia's West Papua province, Raja Ampat, or the Four Kings, is an archipelago comprising over 1,500 small islands, cays, and shoals surrounding the four main islands of Misool, Salawati, Batanta, and Waigeo, and the smaller island of Kofiau.
Raja Ampat archipelago is the part of Coral Triangle which contains the richest marine biodiversity on earth and has been described by scientists as a biological hotspot. The geography, diving, wildlife, culture and hospitality of the people are all legendary. Thanks to the Indonesian Throughflow, the diversity of marine life is staggering and crystal clear waters ensure the diving and snorkelling rates as among the best on the planet.
However, the incredible coral reefs here are now under threat from the Crown of Thorns Starfish and the local community needs your help. Read this news item (July 2018) to find out more.
There have been some recent near-misses with positions being taken from the paper charts for the Sorong area. Paper charts and GPS can vary up to 500m. Please take care when using paper charts for primary navigation.
There is a new marina now open at the Port of Waisai, on the west coast of the island of Waigeo.
See Cruising Reports for more detailed feedback from cruisers who have spent time in this area.
Crocodile Attacks – Raja Ampat
In April 2016 a fatal saltwater crocodile attack on a snorkeller was reported, off the coast of Minyaifun island.
http://www.divernet.com/home-diving-news/p305790-crocodile-attack-in-raja-ampat.html
Position: 00° 29'S, 130° 09'E (western side of the islands)
Clearance
International clearance must be done in Sorong, but permits for cruising in Raja Ampat can be done in Wasai. Meridian Adventures at Waisai offer services to help vessels with clearance and obtaining the Raja Ampat Marine Park Entry Tag which is needed to sail in the Marine Park area. For further information and costs see the main Indonesia Formalities page.
Last updated: August 2018
Docking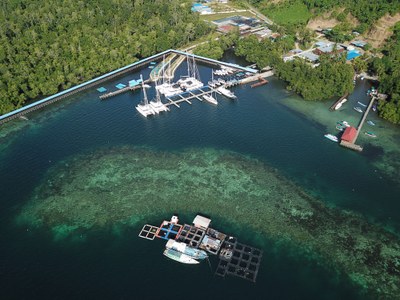 There is now a yacht marina at the Port of Waisai, on the south-east coast of the island of Waigeo (picture courtesy Meridian Adventure Marina). This new facility is being managed by Meridian Adventure Marina Club & Dive Resort. Temporary membership is available to transient yachts with prices starting at US$15 per day which gives access to the Marina Club's facilities.
In the absence of berth availability, Waisai offers a calm, safe, and clean anchorage. Meridian Adventure provides water taxi services at no charge to club members to and from the Marina Club and the anchorage.
Pulau Pef in central Raja Ampat is a privately owned island with a dive resort that has two moorings for private yachts. There is no anchoring permitted around the island. If yachts want to stay at Pulau Pef, there is a sheltered bay on the east side of the island where mooring on two buoys is possible for a daily service fee. This fee is mandatory – see details below.
Sudden tropical storms (that at times can be severe) can cause problems in the Raja Ampat and Sorong area. Since December 2016 there has been an unusually high number of these (locally known as "badai"), often causing havoc in the harbour with anchors dragging, near collisions and entanglements. They normally don't last more than 20 minutes, but gusts can be as strong as 50 knots. Ground tackle and anchor winches will suffer wear and tear so be sure to arrive prepared with plenty of spares (at least a spare set of winch gears and at least two sets of winch motor brushes).
Last updated: August 2018.
Meridian Adventure Marina Club & Dive Resort Waisai
Related Businesses
Meridian Adventure Marina Club & Dive Resort Waisai

Address: Raja Ampat Islands, Eastern Indonesia - Papua, Indonesia,

VHF Channel 16 and 72

Marina Location: 00°.25.984 S, 130°.48.386 E;

New marina with 5 Med moor berth positions on the floating dock (up to 35 metre... Read More

Raja4Divers Moorings – Pulau Pef

Address: Raja Ampat Islands, Eastern Indonesia - Papua, Indonesia,

Free anchoring is NOT permitted around the island. The dive shop has a mooring for visiting yachts - charge 20 Euros per person per night,... Read More
Places
Eastern Indonesia - Papua, Indonesia, Raja Ampat Islands