Previous Page
General Info
Tucked into the northern side of the attractive Ria de Camarinas, the town of Camarinas is a very pleasant stop along the wild Costa da Morte of Galicia. Unfortunately the "look" of the town has been somewhat spoilt by careless modern construction, however, it is the type of town where the ladies still sit in doorways making lace. The setting of the Ria, however, is beautiful and remote.
In strong on-shore winds though, the Ria itself can be dangerous to enter, but the marina is sheltered from most directions.
Camarines is small and remote and there are few yachting services.
Position 43° 07.41'N, 09° 10.60'W (Camarines harbour)
Docking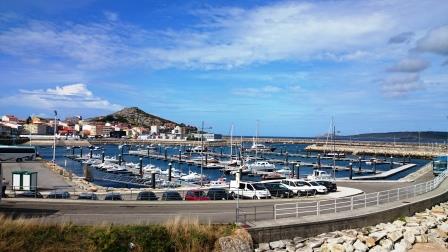 Club Nautico de Camarinas is a small, friendly marina at the northern end of the Ria, next to the fishing harbour. There is also a well-sheltered port, Muxia, on the southern side of the Ria. Muxia marina was built here in 2012 (see photo) and they offer a friendly welcome to visiting yachts.
There are a number of anchorages very near the Club Nautico, in 2-8m mud or sand with some gravel depending on where you are. Good shelter from northerly winds can be had using the steep, tree-lined hills north of the Rio del Puente del Puerto.
Careful pilotage is required to avoid dangers on the approach to the Club Nautico (shallows and isolated rocks).
Last updated August 2017.
Related Businesses
Club Nautico de Camarinas

Address: Ria de Camarinas, North West Spain, Spain,

43º 07' N 009º 10' W.

Small and welcoming marina. Water, electricity, fuel and a crane. The office is the wooden hut by the fuel berth.... Read More

Muxia Marina

Address: Puerto de Muxia S/N, Muxia (A Coruna), Ria de Camarinas, North West Spain, Spain,

43º6,4'N 009º12,8'W.

Full-service marina with 232 berths: water, electricity, diesel (by portable trolley), laundry, free WiFi, security, car rental, cafe & library, sail repair, medical services,... Read More

Puerto de Muxia

Address: Ria de Camarinas, North West Spain, Spain,

43º 06' N 009º 10,5' W.

Small fishing harbour at the southern side of Ria de Camarinas. Offers shelter from W, S and E winds. Anchor... Read More
Places
North West Spain, Ria de Camarinas, Spain