Previous Page
General Info
Located on Spain's southern coast, west of Gibraltar, this Andalusian city is well worth a visit. The old city is a maze of narrow winding alleys, while the modern part has spacious avenues. Its many parks are full of exotic plants.
It lies on a peninsula on the southern shore of Cadiz Bay. Santa Maria is opposite on the mainland.
Position 36° 32.99'N, 06° 16.93'W (Cadiz side of the Bay)
Docking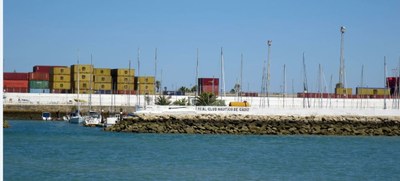 There are several marinas in the Bay of Cadiz, all of which offer good shelter. The photograph on the left is of the Real Club Nautico, and on the right Marina America, courtesy of SY Blue Moon June 2015.
The Rio San Pedro provides some excellent anchorages and it is also possible to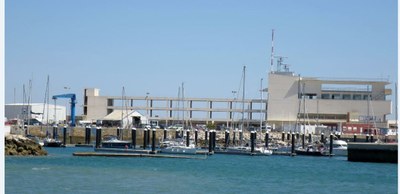 anchor in the large bay of Cadiz.
Weather information is on VHF channel 26 at 0940, 1140,2140 UTC.
Last updated June 2016.
Puerto Deportivo de Sancti Petro
Puerto Deportivo de Sotogrande
Real Club Nautico Puerto de Santa Maria
Related Businesses
Alcaidesa Marina

Address: Puerto Deportivo Alcaidesa Marina, Torre de control, Avda, Príncipe de Asturias, La Línea de la Concepción, Cadiz, South west coast, Spain, 11300

All facilities, fuel, electricity, water, laundry, WiFi, refuse, toilets, showers, bike hire, 24 hr security. Boatyard with 75-ton boat hoist, repair services. Accommodates boats up... Read More

Club Nautico Elcano

Address: Avda. Ronda de Vigilancia s/n, Cadiz, South west coast, Spain,

Location 36°30'N ,06°15.4'W

VHF Channel 09, 16

Located on the eastern side of the city. 244 berths, 2m max draft. All facilities, bar and restaurant, crane, shore... Read More

Puerto America Marina

Address: San Filipe Point, Cadiz, South West coast, Spain, 11004

Well sheltered marina with 7.5m max draft. 20 min walk to old Cadiz centre.

All facilities, fuel, laundry, yacht club, chandlery, 24-hour security. WiFi service available... Read More

Puerto de Gallineras

Address: Avenida Cayo Juno Draco, s/n, Cadiz, South West coast, Spain, 11100

Puerto Deportivo de Sancti Petro

Address: Chiclana de la Frontera, (near Cadiz), Cadiz, South West coast, Spain,

36deg 23'46,0"N, 6deg 12'28,8"W. 90 berths, 5m max draught, showers/toilets, electricity, water, oil disposal, land storage, crane and 24-hour security.... Read More

Puerto Deportivo de Sotogrande

Address: Torre de control, Puerto Deportivo Sotogrande, s/n, San Roque, Cádiz, South West Coast, Spain, 11310

36deg 17' 24"N, 5deg 16'10"W. 1382 berths, 3.5m max draught, 6 to 70m LOA, fuel, showers/toilets, water, electricity, oil disposal, crane, land storage and 24-hour... Read More

Puerto Sherry Marina

Address: Puerto de santa Maria, Cadiz, South West coast, Spain,

842 berths, 2.4-3.5m draft, 5 to 55m LOA.

On arrival, be careful when entering the marina and give a wide berth to the red buoys. Berth... Read More

Real Club Nautico de Cadiz

Address: Paseo Almirante Pascual Pery Junquera, Cadiz, South West Coast, Spain,

Tel:(34) 956 213 262/956 22 87 01

VHF Channel 9 and 16

36deg 32'N, 6deg 19'W. 160 berths, 3.4m max draught. The club is situated close SW... Read More

Real Club Nautico Puerto de Santa Maria

Address: Avda. de la Bajamar, 13, El Puerto de Santa Marie, Cadiz, South West coast, Turkey,

Located up river by Puerto Sherry, at Santa Maria. All facilities, 250 berths, 5m max draft, fuel, internet , bar and restaurant, 24 hour security.... Read More

Sancti Petri Marina

Address: Sancti Petri, Cadiz, South West coast, Spain, 11130
Yacht Clubs
Related Businesses
Puerto America Marina

Address: San Filipe Point, Cadiz, South West coast, Spain, 11004

Well sheltered marina with 7.5m max draft. 20 min walk to old Cadiz centre.

All facilities, fuel, laundry, yacht club, chandlery, 24-hour security. WiFi service available... Read More
Places
Cadiz, South West Coast (Spain), Spain