Previous Page
General Info
Mahon is the capital of Minorca. This large, natural harbour offers an easy entrance, accessible in all weathers, and has good shelter once inside. Deeper draught yachts may have to resort to dinghy work to provision. In the high season visitor berthing here is difficult to find and can be expensive, however, the Club Maritimo now offers more reasonably priced berths. Advance booking necessary.
All facilities are available here but somewhat scattered around the harbour.
It is a beautiful harbour and town and is well worth a visit.
Position 39° 52.00'N, 04° 18.00'E. (outer harbor entrance)
Docking
Anchoring
The anchoring policies and practices in Mahon harbour have changed frequently over the last 15 years. A few years ago a total ban on anchoring was being enforced, even in Cala Teulera, however it is now currently being allowed.
Cala Teulera: Anchoring restrictions in Cala Teulera, below Mahon, tend to vary depending on the time of year. See the comments from cruisers at the bottom of the page. The latest information is that up to a 3-night stay is permitted (more if town berths are full or weather is too bad to move on).
Anchoring behind Isla Plana is no longer allowed or at the entrance of the harbour. You will be moved on by the Port Authority if you attempt to anchor here, or asked to pay an "anchoring tax".
Cala Tuelera, below Mahon, is a prohibited long-term anchorage, however, three days maximum are permitted.
Cruisers report that Binibeca just along the coast permits anchoring.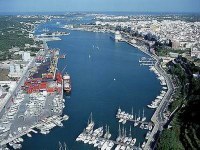 Marinas
The mooring situation here is very confusing and seems to change every year. Berths in Mahon, however, tend to be on the expensive side.
The latest information we have is that there are three marinas here as follows:
In the area on the Moll de Levant in the centre of town are now five long pontoons with AC, water, gates etc. and is a significant marina called Marina Mahon with 165 berths. Whilst this is the most centrally located marina with easy access to shops & restaurants, prices are expensive. They do however have some floating pontoons with varying services at cheaper prices.
Just a little further into the harbour but also on the Moll de Levant are the 40+ moorings tailed onto the quay which used to belong to Sunseeker (Marina Estrella). However, Sunseeker have now lost the concession and the moorings have been taken over by the Club Maritimo de Mahon. Having gone for a time with no moorings, the new Club President wants to get back into the moorings business – he is hoping to let the vast majority on a long term basis but with some slots available to visitors. Visitor berths here tend to be more reasonably priced.
The marina at the head of the harbour (west end) is Marina Menorca. Managed by Rosendo, they also operate the S'Altra Banda pontoons along the north coast of the harbour as well as some detached floating pontoons inside Isla del Rey and further in. These detached pontoons are cheaper than the ones with access to land. They also have lift out facilities and hard standing.
Pedro's Boat Centre has a good chandlery, does service work and has some hard standing and possibly a few moorings. It's not clear however if these are available to visitors.
Last updated July 2017.
Related Businesses
Places
Balearics, Mahon (Minorca), Spain