Previous Page
General Info
Once a small fishing port the harbour of Motril has developed into a commercial port serving the inland city of Granada with frequent ferries and shipping. Motril has a small yacht club/marina and is a convenient place from which to take a day trip to the city of Granada and the famous Alhambra.
A real treat for snorkellers and divers is the artificial reef built two years ago off the Peñon rock to shelter and encourage sealife, now showing remarkable results.
Important Warning: There is a new artificial reef off the harbour entrance constructed by the Port Authority to reduce beach erosion – see details below.
Position 36° 42.68'N, 03° 30.75'W (harbour entrance)
Docking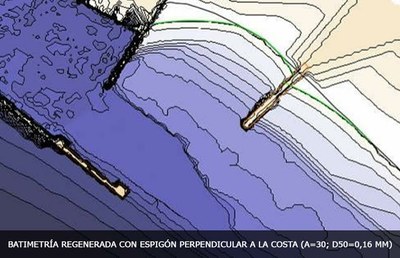 This port has a long breakwater (almost a mile long), which has been extended. In order to avoid possible impact from the sea wall extension to the local Azucenas beach (on the approaches to the port), a semi-submerged sea wall has been constructed from the beach (artificial reef). This extends out towards the entrance channel (see picture) and its outer limit is marked with a yellow buoy (flashing yellow every 5 seconds).
No yachts must attempt to anchor off the beach as there is not sufficient depth. The entrance channel into the port is dredged to 13.50m. On approach, be sure to stay close to the breakwater in line with the port entrance and away from the shore.
The Real Club Nautico de Motril is a 15-minute drive from the small town of Motril. Provisions and services near the marina are limited, but there a few tapas bars.
Whilst the breakwater here is incredibly long, cruisers report that it is very uncomfortable in the marina due to the swell, particularly in winds from the E/SE. Availability of berths for visitors is very limited.
Last updated September 2017.
Related Businesses
Club Nautico de Motril

Address: Recinto Portuario s/n, Motril, Granada, Spain, 18600

Marina suffers from swell from the East. Provides berthing and boatyard with storage. Reported to be expensive. Internet in the marina bar. Water and electricity... Read More
Places
Mediterranean Coast (Spain), Motril, Spain