Previous Page
General Info
Both Melilla and Ceuta are Spanish enclaves on the north coast of Morocco, administered as city provinces of Spain. Also Spanish are the small islands of Alhucemas, Chafarinas and Penon de la Gomera. Ceuta and Melilla are important military bases.
Lying 120 miles east along the Moroccan coast from Ceuta, Melilla is not as large as Ceuta.
Cruiser report that long-term boat storage here is very cheap, secure and excellent value for money (see comments at bottom of page).
Position 35° 17'19″N, 02° 55'14″W (harbour entrance)
Clearance
Visa requirements are the same as for Spain.
See Noonsite Spanish Formalities for more details.
Check-in formalities are reportedly straightforward at the marina office, with the port police and Guardia Civil in the same building.
"The Green Frog's Guide to Mellila" by Carol and David Palmer can be obtained locally and provides more detailed information on facilities.
Docking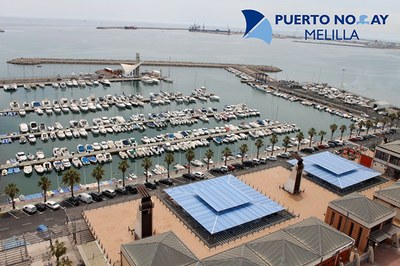 The marina here offers good shelter and facilities.
On arrival, call the marina on Channel 9 for berthing guidance. If they don't answer you can easily moor at the fuel dock which is at the entrance to the marina. The marina office is located opposite the fuel dock in the building with a high tower. There is often swell outside the marina so it's best to berth inside.
See comments at bottom of the page for the latest marina charges reported. There is a deposit for the electrical plug (you will have to wire to your cable) and an adaptor for the water connection (there is no potable water available in the harbour, so plan on using bottled water for drinking). The marina will take credit cards. There is a deposit for the shower and toilets which are a five-minute walk on the opposite side of the marina.
Melilla is a duty-free port and good buys are available here. There is no VAT on purchases.
There is 24-hour security in the marina, however, it is a good idea to secure cockpit lockers and not leave valuables unsecured on deck as petty theft can be a problem in town. This is particularly important if berthed on the quay opposite from the marina office which has less security.
The historically interesting, Art Nouveau old town, is easily reached by foot.
Last updated:  September 2018.
Yacht Clubs
The Real Club Maritimo de Melilla is located inside the fishing port, 250m north of the port entrance (turn right at the gate). It offers excellent facilities including bars, restaurant, swimming pool and gymnasium. Free use of the internet. See http://www.clubmaritimomelilla.es/
Places
Melilla, Spain, Spanish North Africa