Previous Page
General Info
Description:
The Ria de Vigo is the most southern of the Galician Rias, benefitting from a slightly better climate because of its location. Protected across its entrance by the Islas Cies (part of the Atlantic Islands National Park), it provides a safe, sheltered harbor. It lies about 6nm from the entrance.
The Port of Vigo is ideally positioned and has, for many years, been the leading seafood port in Galicia. Vigo, which was first settled as a small fishing village, has become Galicia´s most populous city with successive areas of land having been reclaimed from the sea. Its origin as a fishing port has left the old town with an interesting maritime atmosphere.
Cruiser Highlights:
Vigo is one of the top locations in Galicia for solving problems with a boat. All marine services are available here. The best way to find expertise is through the marinas who will have good knowledge of the most suitable people around. This is a good place to consider over-wintering your boat.
Baiona lies on the southern shore at the entrance to the Ria, about 4nm due south of the Islas Cies.
Positions:
42° 10.13'N, 08° 52.93'W (entrance to Ria de Vigo)
42° 07.5'N, 08° 50.35'W (Baiona)
Related Businesses
Centro Saude Cangas (Health Centre)

Address: Av. de Madrid 57, Pontevedra, Ria de Vigo and Baiona, North West Spain, Spain, 36214
Clearance
See the Noonsite/Spain/Formalities page for details of how to clear into and out of the country.
The port of Vigo is the Port of Entry.
Customs and Immigration officials are based in Vigo (at the cruise ship terminal). If you are berthed in Baiona or another port in the Ria, and are a non-EU boat entering Schengen for the first time (or you have non-Schengen crew on board), you will have to go to Vigo to clear with Frontier Police (with all the crew).
The Frontier Police are based at the Cruise Ship Terminal opposite the Club Nautico on Vigo waterfront. Ask the marina (if you are berthed in one), to call in advance to let them know you are coming.
For non-EU citizens note, it's unlikely Immigration will want to stamp your passports if this is your first Schengen country as local regulations view recreational navigation as not "travelling within the country". If, however, you wish your passport stamped, the authorities can give you details as to how to locate the nearest border office.

It is therefore advisable to arrange to berth in Vigo for clearance and then sail to other ports in the Ria.
Vigo Port website: https://www.apvigo.es/

Last updated: June 2022
Docking
The Ria is busy and industrial, however still has its quieter areas.
Marinas – Vigo
Vigo City on the south shore has 4 large marinas with visitors berths, however, the trade-off for being close to amenities is that all are located in busy commercial areas.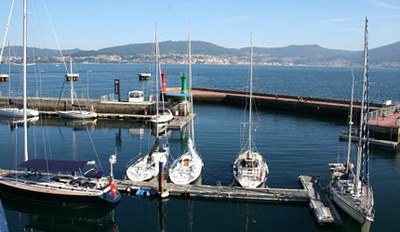 The Real Club Nautico de Vigo (shown above) partly isolates you in the marina, whilst being the closest marina to the centre of the city. It has undergone expansion and improvements in recent years and is definitely the place to be if you want to be close to bars, restaurants, shopping etc.If you prefer to be based elsewhere in the Ria, there are adequate transport links for visiting the city.
Surrounding Vigo within the Ria there are several other marinas to consider. Many are private (and we have not listed these), however, the small marinas at Cangas (Vigo´s beach town), Moana and San Adrian de Cobres on the north shore can host visiting yachts. All are accessible by ferry from Vigo.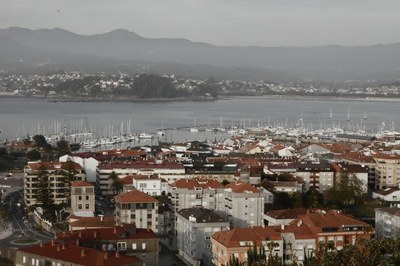 Marinas – Baiona
Baiona is one of the best and most picturesque harbours for visiting yachts and is a delightful Medieval town close to the Ria entrance.
There are two marinas here (see photo above taken by Kieran Higgs). On rounding the harbour breakwater is the Monte Real Clube de Yates (MRCY) and to port is the Puerto Deportivo de Baiona.
The Puerto Deportivo de Baiona marina tends to be where most visitors are directed on arrival and is the cheaper option for a pontoon berth. However, the facilities are not as good as at the MRCY, the pontoons are in poor condition, it is more exposed and there is no security. The MRCY has a beautiful club house and bar/restaurant with views over the water, is a charming location, and facilities are good for visitors. There is a fuel berth here. Taking a mooring buoy at the MRCY is a cheaper option.
Anchorages
There are numerous anchorages, the most attractive being near the entrance of the Ria, especially on the east side of Islas Cies (see below). Barra and Limens also offer pretty anchorages with white sandy beaches and a pine tree backdrop. Good walks can be found ashore and Limens has a campsite which offers good meals and fresh bread/croissants in the morning.
The large bay at the Northern end of the Ria, Ensenada de San Simon, is a haven of peace in a rural setting, sheltered from all winds. It is, however, a tidal lagoon, very shallow and therefore a good survey with a tide table in hand is necessary to find enough water. It is also a good 12NM from the Ria entrance. The best time to explore here is close to neap tides. There are moorings available at Puerto Deportivo San Adrian de Cobres. The area around the marina and fishing quay at San Adrian is probably the best location in the bay for anchoring, at least 4m deep in mud.
Atlantic Islands National Park
Known as the "Galicia Caribbean" these Islands offer wonderful white sand, turquoise waters, and great hiking, flora, and fauna.
To visit the Islands (Cies, Salvora, and Ons) in this national park, you have to first apply for a Navigation Permit which can be obtained online. You also have to apply for daily anchoring permits, which again can be done online and is very straightforward. See Restrictions for more details.
Alternatively, you can catch a ferry to Cies and Ons between April and October from Baiona, Vigo, and Cangas, and make a day visit by foot, or overnight at one of the campsites.
It is possible to anchor here without an advance permit, in case of emergency or bad weather.
Port Control – Vigo Practicos: VHF Channel 14
Harbour Master Vigo – Tel: +34 986 224001, Fax: +34 986 4348
Harbour Master Baiona – Tel:+34 986 355234, VHF Channel 16, 06
Last updated: January 2023
The marina at Monte Real Club de Yates, Baiona, taken by Kieran Higgs.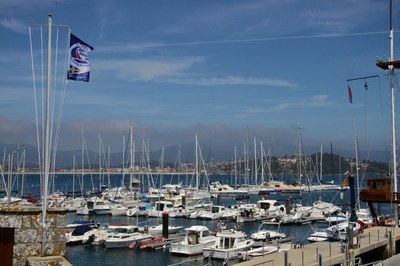 Related Businesses
Yacht Clubs
Related Businesses
Baiona: Monte Real Club de Yates

Address: Recinto del Parador, Bayona, Pontevedra, Ria de Vigo and Baiona, North West Spain, Spain, 36300

Contact in advance regarding the availability of a berth or mooring as very busy in Summer. Good facilities; fuel (check tide for available depth), showers,... Read More

Cangas: Club Nautico de Rodeira

Address: (N Coast of Ria de Vigo opposite Vigo City), Ria de Vigo and Baiona, North West Spain, Spain,

In the heart of Cangas town next to the ferry dock so convenient for provisioning. Small marina with limited berths as rather full of local... Read More

Vigo: Real Club Náutico de Vigo

Address: As Avenidas s/n, Vigo City Centre, Ria de Vigo and Baiona, North West Spain, Spain, 36202

Location: 42º 14.5'N 008º 43.4'W.

All facilities, reception pontoon (port side on entry), harbour masters office, fuel dock, boatyard with 32-ton travel hoist, repairs, laundry, bars,... Read More
Courtesy Flag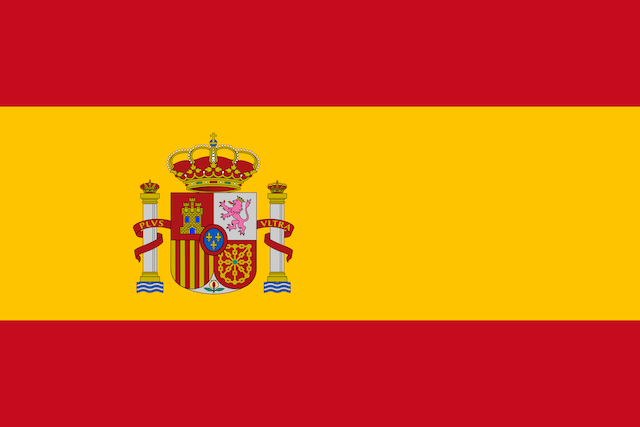 YachtFlags.com offers a discount to Noonsite members.
YachtFlags.com provides high quality courtesy flags that are manufactured in durable Knitted Polyester fabric. Knitted so that the fabric itself does not deteriorate in the constant movement that marine flags are usually exposed to, and polyester so that the flag does not weaken in the strong UV-light usually found in the main sailing areas of the world.
Use the coupon code NOONSITE_5A2B when checking out to get 10% off today.
Buy Now On YachtFlags.com
Places