Update for Red Sea Passage and Cochin India (October 2019)
Previous Page
News Intro
With the season for a Red Sea passage rapidly approaching, Wade Alarie – primary Admin of the private, closed Red Sea Facebook Group for the past 2 years – provides an update on yachts that have transited to date in 2019, the security outlook plus routing and other advice. Wade plans to transit in January 2020.
Last Update - February 11, 2020
News Item Content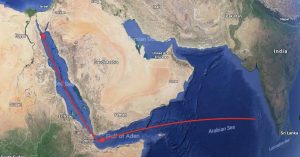 Update February 9, 2020:
SV Joana has made a safe 16 day 2020NM passage from Kochi to Djibouti. See Wade's passage report posted as a comment at the bottom of this report.
Update January 12, 2020:
Wade Alarie, who has been the primary Admin of the private, closed Red Sea Facebook Group for the past 2 years, is now in the process of doing his Red Sea Crossing, and will be largely out of contact for a while.
If you would like admission to the group, please contact Sherry on s/v Soggy Paws until further notice ([email protected]). In your email, please include your boat name and your expected timeframe for making the passage.
Report from Wade Alarie – 25 October, 2019:
As of 25 October 2019, yachts are still moving both north and south through the Red Sea. Although it is possible to make the journey nearly any time during the year, the most common timeframe for either a N-S or S-N passage tends to be in the mid-December to mid-April timeframe, during the NE monsoon. Since that season is rapidly approaching, it is timely that I provide an update.
As an Administrator for the Facebook Group "Red Sea Passage" – I encourage cruisers who are contemplating this route to join the group. I maintain a "living" spreadsheet of yachts that are planning to make the passage in the coming 5 months, and have 31 entries, leaving from different ports in the Med, Kenya, India, Dubai, and most commonly Thailand and Malaysia. Joining the group gives you access to the discussions and plans made by members – as well as the experience of others who made the passage in the last year or two and readily give their advice. Since it is a private, closed group – membership is vetted, and restricted to cruisers. You may email me at [email protected] to inquire about joining.
How many transit?
I can name 33 vessels that have successfully made the passage so far in the calendar year 2019: Ammonite; Biche du Vent; Blue Eye; Blue Roger; Calliope; Caracalito; Chi; Confidence; Dona Zita; Drifter; Ecstasy; Esperanza; Indian Summer; Goochey Larfrae; Jambote; Kalibu; Koza; Lella; Lisanne; Juliane; Ladoga; Lady mia; Manga Roa; Melipal; Meander; Miss Tiggy; Moya; Muttley; Nemesis; Orion; Pelican; Petit Prince and Vamanos.
There are also others that are still underway and are expected to have completed by year-end.
Captain Heebi (an agent in the Suez Canal) has said that, as of 12 June 2019, 67 yachts had passed through the Suez Canal. His numbers are higher than mine because he includes some yachts that although they transitted the Suez Canal, they may not have passed through the Red Sea, instead stopping at Hurghada or into the Gulf of Aquaba (wintering from the Med). Additionally, I have no direct knowledge of the dozens of yachts that make this passage every year without ever considering to join our Facebook Group.
Pirates
As far as I'm concerned, there hasn't been a pirate attack against a private yacht since 2011.
There are still pirates, I won't deny this, but they don't seem interested in us "senior citizen middle-class circumnavigators". Perhaps the thought of capturing, incarcerating, feeding, housing and providing medical care to middle-class elderly people for a year or more while haggling with relatives about a meager payout – doesn't seem like much of a business case.
Yacht convoys are thought to be a bad idea. They are unwieldy to manage and pose a more visible and attractive target. The military presence in the area (two different missions, one managed by NATO and one by the EU) discourage anything more than a couple or three boats traveling "together".
Yachts are encouraged to individually advise UKMTO (based in Dubai) of their transit plans, and provide daily updates. It's highly unlikely that a yacht or yachts will get a military escort, but the ships are there constantly patrolling, often within reach of VHF.
Of note, in March 2019, there was a single-hander on a catamaran (moving North along the East coast of Africa) near the coast of Somalia who was boarded by two locals with knives and he subsequently repelled them with a cricket bat. Since this incident happened well outside of the patrolled High-Risk Area (HRA), and the locals appeared to have no guns, the action does not seem to have been attributed to "pirates".
Useful stopovers
Finally, a logical port to pass through for an East or West crossing of the Red Sea is Cochin International Marina, at Cochin (Kochi) India. The marina is well established, having been there for more than 10 years.
Contact Nigel Joseph the marina manager, at +91 97470 57015, email to [email protected] Send vessel name, mono or cat, dimensions, draft, ETA and expected length of stay, to reserve space in the marina.
Other common stopovers are Sri Lanka (both Trincomalee and Galle), Socotra, Djibouti, Eritrea (Massawa), Sudan (Suakin) and Egypt (Port Ghalib and/or Port Suez if coming from the South).
Wade Alarie / SV Joana / www.joana.ca
Wade and his wife Diane are Administrators of the Facebook Group Red Sea Passage and have been cruising, slowly circumnavigating since May 2009. They left from Kingston, Ontario Canada (the East side) in May 2009 and slowly worked their way through the Caribbean, through the Panama Canal, across the Pacific Ocean, stopping off for extended periods in NZ and Australia. They have been in Cochin, India since March 2019 and are planning to sail West through the Red Sea in January – April 2020.
Related Content:
Update for Red Sea Passage and Cochin India (June 2018)
Indian Ocean and Red Sea Passage: Helping cruisers exchange information
…………………………………………………………………………………………………………………………………..
The opinions expressed in this article are the author's own and do not reflect the view of Noonsite.com or World Cruising Club.
Places
Update History
February 2020: Arrival in Djibouti – passage report by Wade posted as comment.
January 2020: Updated with info. from new Admin, Sherry of Soggy Paws.
User Comments
You must register first or be logged-in to leave a comment.