Previous Page
General Info
After a stopover here by the Volvo Ocean Race in 2009 generated a much bigger interest in sailing, the new "Kochi International Marina" officially opened on 24, April 2010.
This is a logical port to stage out of for a Westbound crossing of the Red Sea. It is an excellent stop for provisioning, good marina security, an interesting tourist experience, and excellent medical facilities are available. The recent visa change which allows e-visa entry into Cochin makes a visa solution inexpensive and easy.
Whilst the past few years have seen a decline in the number of yachts visiting due to the piracy in the Northern Indian Ocean, this is now changing and improvements are underway to improve the marina and yachting infrastructure here.
The city offers a perfect blend of the traditional and the modern and is a major tourist destination encompassing tranquil backwaters, heritage and historical sites, antique shops, spice trade centres etc.
Position 09° 58'N, 076° 13'46″E (harbour entrance)
Clearance
For full details see Indian Formalities.
Port Control must be contacted on both arrival and departure once in the approach channel. Call on VHF channel 16. It is very likely that Port Control will call you as they will have seen your boat on AIS.
Yachts must anchor for clearance of the steamer point on the north tip of Willingdon Island, opposite the two jetties of the post office and the Taj Malabar Hotel in front of the Port Trust Building (Location 09° 58.15'N, 076° 15.43'E). The Immigration boat will probably be waiting there for you, but do ensure your anchor is well set (they will wait) as you are likely to need to stay there overnight. You will need to then go to the Immigration office ashore to complete their paperwork. They will issue landing passes or stamp passports.
The post office, Immigration and Customs are now all located next door to each other, which makes clearance simpler, however not necessarily quicker. Expect clearance to take most of the day. Note, some boats have reported being allowed to proceed to the marina and complete clearance the next day. Customs seems to take the longest.
A useful contact here is Nazar 72 (+91 98 95 164090). He speaks some English, but his son, Nisam, is better, so ask to speak to him. They are most helpful and will guide you through the clearance process as they know where all the offices are, which forms to fill in at the State Bank and which desks to go to.
After completing Immigration, visit the Port office. After paperwork here you need to go to the State Bank close by to get a cashier's cheque for about 850 Rupees which you then take back to the Port Office – more paperwork. (Note: the bank closes at 15:30). Lastly, visit the Customs office. They will retain your Ship's Papers and issue a receipt. Expect this process to take two hours minimum. Back to the boat and await a Customs officer to come aboard to do more paperwork and an inspection. They will not come aboard after 1700. Any alcohol valued at more than 3,500 Rupees will be bonded with your satphone if you have one.
After clearance, you may then go to the yacht anchorage south of Bolgatty Island or the marina at the Bolgatty Palace Heritage Hotel on the east of Bolgatty Island. Boats drawing more than 6 ft (2 m) should wait for high tide as the channel is shallow in places. Written permission from the Port Captain must be obtained if moving to another area.
With prior warning, yachts planning to call at Kondo Syokai for repair can call on them for assistance with clearing.
You can leave your boat in Cochin and travel inland in India. If you want to leave the boat there and travel out of the country, you will need special permission from the authorities in Cochin. The boat must have a guard on-board or be stored in a recognised boatyard/workshop. Contact: Deputy Conservator's Office, Cochin, Tel: 04 84 666871, Fax: 04 84 668163.
If planning a day sail from the port, Port Control must be advised in advance, by fax, stating vessel, crew and duration of the trip (in hours).
The Coast Guard is likely to come alongside to check when sailing in the vicinity of the port.
Clearing Out
After clearing out, you have three days in which to leave. Using Nazar will cut down on the time this takes.
First go to Port Control, next to Customs to recover your Ship's papers (do not forget your receipt!). Finally, Immigration, but note, they (unlike Port Control and Customs) do not give you 3 days. They expect you to leave the same day.
Call Port Control on CH16 and ask for permission to leave. They will ask you to keep a radio watch on CH17.
Latest update: March 2018
Docking
Anchoring
The Anchorage, east of the southern end of Bolgatty Island off the Bolgatty hotel, is free and quiet and good for an extended stay. Water is no longer supplied by the hotel, but standpipes are available (note: water is non-potable).
From here by dinghy, you can visit Ernakulum, the modern site of Cochin. Ferries to Fort Cochin run daily as well as ferries to Willingdon Island.
The Taj Malabar hotel is welcoming to cruisers who can use their facilities (bar, restaurant, internet, pool).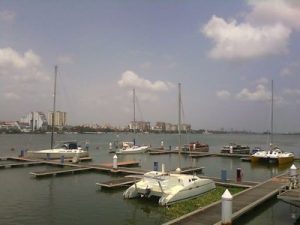 Marina
The Kochi International Marina, which opened in April 2010, is part of the Bolgatty Palace Heritage Hotel on the east of Bolgatty Island. Unfortunately, limited yacht traffic over recent years resulted in the marina falling into disrepair. In 2017, however, some improvement has been made and new pontoon decking should be in place for the 2018 season. The water is non-potable and if the electricity does not work, the hotel electrician can help. Showers and toilets are unisex.
The entrance channel is shallow and the water full of silty mud, so the depth sounder readings may not be accurate. It has been reported that boats with a 2.5m draft have made it up there. Keep to the west side of the channel and approach at high water slack. The entrance to the marina is difficult due to the tide and tight finger pontoons. Assistance with berthing is very helpful, however, there may not be anyone around. The pontoons are short.
The Bolgatty Palace resort facilities are available to marina users which includes free Wi-Fi in the air-conditioned reception area.
Notes
John Crabtree and his boatyard/yacht club are no longer operating.
One thing to note when staying here is that Kerala is one of the wettest places on earth and installing an air conditioner is essential if you wish to avoid the boat becoming full of mold.
The Kerala Watersports & Sailing Organisation (KWSO) are very active in promoting the Sport of Yachting in Kerala. Find out more at www.keralawatersports.org.
Ashore
The locals are friendly and helpful and you can get anything here with reliable delivery. The ferry to town is nearby and there is a treasure trove of hardware and useful things for boating in this area.
Lakshadweep Islands
These islands are renowned for incredible diving. However, a permit is required by visiting yachts and it has been reported that these are almost impossible to obtain. Neither alcohol nor bikinis are allowed and there is a very basic infrastructure (a few guest houses) with 5 diving schools. The main 5 islands have mooring buoys in their lagoon with entrances well marked – but one should be careful.
Latest update: March 2018