Previous Page
General Info
COVID-19: OPEN PORT (with caution)
Description:
This large military port is located in the northern half of the east coast of Sri Lanka. It is one of the largest harbors in the world and can be entered in any conditions.
For years, cruising boats heading to Sri Lanka only had the one option when clearing into the country, and that was Galle in the SW. Trincomalee was in Tamil Tiger territory and not considered a safe destination during the civil war that dragged on from 1986 to 2009.
Trincomalee's unspoilt beaches have made it an increasingly popular tourist destination in recent years, and slowly but surely the cruising community are starting to use it as a quieter alternative to Galle.
Cruiser Highlights:
Cleaner and quieter than Galle; clearance port; safe all-weather harbor; close to the Cultural Triangle; outstanding national parks nearby.
Entrance Notes and Cautions:
Under no circumstances is entry permitted at night.
There are no lit buoys and the harbor master is not willing to be responsible for any yacht's night time entry or departure.
As you approach Trincomalee beware of fishing boats casting their nets. Some of these nets are at least 1.5NM long, only marked with a flashing light at the outer end. Be sure to avoid sailing between the fishing boat and the flashing light.
On approach, call Port Control on VHF 16 when you get near Elephant Island. In most cases, they will already know that you are approaching the port, as informed by the Navy, and will hail you on VHF 16. VHF Channel 10 is used as the port working channel. The port controllers are very professional and speak perfect English. They will ask you several questions before giving you permission to pass into the port via Elephant Pass.
Port Control may also ask if you want a pilot boat's assistance to enter the port. This is not necessary and does carry a charge.
For any vessel, entry and movement within the harbor are strictly controlled.
Position:
08° 32″N, 81° 13″E (Outer harbor entrance)
Clearance
To enter any port in Sri Lanka, you must use a Clearance Agent.
See Clearance Procedures for details of all Formalities required on entry and departure.

You are not allowed to enter Trincomalee in the dark.
Whilst this is a military port and not a tourist port, yachts have been able to clear into Sri Lanka here since 2015. The authorities are now more used to dealing with pleasure yachts, so clearance should go smoothly. Make sure you have all your paperwork in order, especially a visa applied for in advance.
Trincomalee – the pier in Town Bay (photo courtesy of SY Totem) is the pier you will be directed to for clearance.
Town Pier (referenced on charts as Passenger Pier)
Yachts can tie up to the north side of this pier while clearing in. It is concrete (have plenty of fenders), safe (in the NE monsoon) and is part of the property belonging to the Customs, Immigration and the police department. It is deep enough for most sailboats to tie up to (the water approaching the pier and at the pier is around 3+ meters deep), but one must have permission from the harbor authorities prior to doing so.
It can be confusing for an inbound yacht identifying the clearance pier, as the names of piers here have changed and charts don't always match even recent charts. In trying to follow directions from the port one boat ran aground, tangled in fishing nets. Some useful notes on chart references here can be found at this report.
The lat/long for the correct jetty for clearance is: 08*34.00 N / 081*13.84 E.
A simpler clearance structure for yachts has been established here since 2015, with assistance from visiting cruisers, as the authorities want to find a way to ensure Trinco becomes a more welcoming place for boats. Co-operation by visiting cruising boats to follow the rules correctly will ensure that these new rules remain properly established.
Clearing-in Procedures
1. Call Trincomalee Port Control on Channel 16 for permission to enter the harbor, and expect at least one military boat to greet you on the way in confirming details. Port control will also confirm your details and give you permission to enter as long as your agent has given them notice that you will be arriving. If your boat name is not clearly seen on your boat, or if any other lettering (like the brand of your boat) is anywhere on the boat, this may cause further questioning to be sure it's really you.
2. The officials and agent prefer arriving yachts to come to the pier for clearance (on the charts it is called "Passenger Pier). This is no problem if the wind is out of the easterly quadrant, but when the wind is blowing from the west, some boats have been allowed to anchor out and go ashore with their dinghy for clearance.
3. Your clearance agent will greet you at the pier. Give him the passports of all crew members, the original exit papers from your last port of call*, one copy of your crew list, and a copy of your ship's registration paper (some yachts have also been asked for medical records and immunization cards). It will take him at least one hour to complete clearance. During this time all crew members must remain on board. Any of the officials from Customs, Immigration, Harbor Police, Harbor Authority and Naval Security may visit your yacht.
*Note: Be advised that it is a big problem if you arrive in Trincomalee with clearance to a port of "Maldives" or anything besides "Trincomalee, Sri Lanka" or "High Seas".
4. When your agent returns your stamped passports, call Port Control and ask for permission to leave the Passenger Pier and anchor near the Town Pier (several hundred metres to the SW is a calm anchorage with good holding).
5. After you anchor, call Port Control and tell them where you are anchored. Port Control require notification if you move at any time.
6. While at anchor or when you are tied up to the Passenger Pier the navy will send a skiff to visit you for a security check, which may include an underwater inspection.
Contact Captain Lakshi Wasantha, Deputy Harbor Master, at [email protected] if you need assistance concerning harbor issues.
Clearing-out Procedures
1. Contact your agent 4 business days prior to wanting to leave Trinco to request a final invoice. Be sure to check it for errors.
2. The day before departure you and your agent should meet. Give him your passports, usually late in the day.
4. The next morning your agent will meet with you. He will give you your stamped (exit) passports, and your outbound clearance document. He will also collect all funds due, per the shipping agent invoice.
5. During your last day in port Navy, security will visit your boat. They will ask to see your passports, make a few notes on their forms, and take a quick look around your boat. You are then free to leave.
6. Call Port Control and ask for permission to raise your anchor and leave the harbour.
There are a number of very useful reports by cruisers re. clearing in and out here. See reports section adjacent.
Last updated: March 2019
Fees
Fees here are now similar to those charged in Galle. Yachts in 2020 have been charged in the region of $230 for the first month and $200 each month thereafter. This fee includes agent, harbor and customs fees.
They may try to charge a $50 bank fee, but you can get around this by paying in cash.
See Sri Lanka Fees for more details.
If you want additional services they cost extra:
Tie off to a commercial dock/pier (to get water for example): $2 per hour.
Tie off to the barge in China Bay, Mud Cove. Approx. 25 cents per hour.
Pilot boat: $24 USD (night or day)
Garbage disposal: $10 per week, if you want to drop your garbage in a boat at the pier. You can get around this by taking care of your own garbage disposal.
Water: $8 for as much as you need up to 1000 litres.
If you want to stay more than 30 days, your next 30 day period must be arranged in advance through your agent.
There are no overtime charges.
See Sri Lanka Clearance for full details.
Last updated: February 2020
Docking
See comment below about entry into the harbour.
You are permitted to anchor right in the heart of the town and have free full access to a good dinghy dock which is guarded 24/7. The anchorage is extremely well protected from all directions.
Following clearance, if you do not request and get permission to anchor in the Town Bay/Town Pier Anchorage, Port Control will probably send you to China Bay, Mud Cove. This location is at the north end of Trinco harbour near several military bases. The Mud Cove Jetty is located 4km from the main town. Berthing here will likely be alongside a barge (for an additional fee). This is the most secure location as the property is well guarded and gated, but it is not that convenient to town. Whilst there are few amenities here, there is access to non-drinking water and there is armed security. One has to walk about 15 minutes up a country road before obtaining local transport into town.
Town Bay is quiet with no other local and/or foreign boats at anchor. All local fishing boats are anchored in either Yard or Mangrove Cove. One can anchor approximately 100 metres out from the clearance pier. The clearance pier can be used as a safe place to go ashore and park your dinghy whilst going into town.
After you anchor or tie to the barge, you must call Port Control with your location and the time you anchored. If you want to move your boat while in port you must get prior permission from Port Control. They are keen to keep track of where visiting yachts are located and to control movements.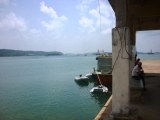 A useful dinghy landing is to tie up to the red boat at the town pier and get ashore via that. (See the photo from Onundur Johannsson below).
If leaving your boat here for any length of time unattended, you may be permitted to tie it off the back of an Agent's boat on the pier, unlocked (as they may need to move it). Security is reported to be very good in this harbour.
Getting Fuel:
Port regulations state that fuel can only be obtained via the port and ship's agent, however, the Harbourmaster has accepted this is impractical for cruising boats so has given permission for cruising boats to "side-step" the official procedure. It is important that skippers adhere to the following procedures when obtaining fuel, so as to keep the authorities happy:
Contact your local agent and advise them you will purchase fuel (via jerry can), advise them the approximate time of delivery at the jetty, and allow the agent to give the port security/customs notice before you turn up.
As the jetty used by yachts is inside a compound for Customs with heavy security, a prior warning is very important, or you will not be allowed through with your fuel.
A useful guide to shoreside services in Trincomalee can be found on this hand-drawn map by SY Sage (February 2015).
Note: The harbour here has clean clear water a few days each month. The majority of the time it is a breeding ground for barnacles. If you anchor here for more than 10 days, you will have to clean your bottom.
Last updated: April 2018
Courtesy Flag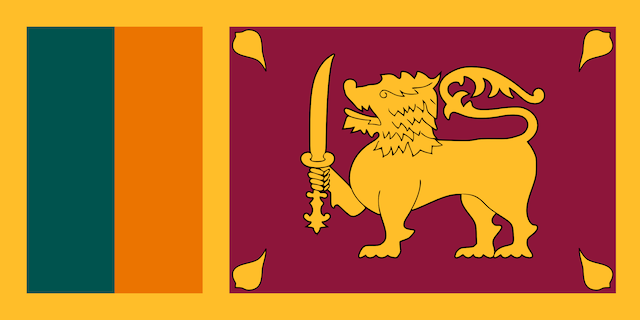 YachtFlags.com offers a discount to Noonsite members.
YachtFlags.com provides high quality courtesy flags that are manufactured in durable Knitted Polyester fabric. Knitted so that the fabric itself does not deteriorate in the constant movement that marine flags are usually exposed to, and polyester so that the flag does not weaken in the strong UV-light usually found in the main sailing areas of the world.
Use the coupon code NOONSITE_5A2B when checking out to get 10% off today.
Buy Now On YachtFlags.com
Places