Previous Page
General Info
This small archipelago is made up of four islands, the largest of which is also called Socotra. It is renowned for its biodiversity with over 700 species found nowhere else in the world. Until recently, the island was very isolated from the outside world.
Position:  12° 40.80'N, 54° 04.67E (Anchorage)
Approaches
Approaching the island from the East, it is advisable to keep at least 16 kms (10 miles) offshore. The eastern extremity of Socotra is dangerous for its sandbanks reaching far out into the ocean as well as strong currents.
The entrance to the harbor, where the pier and anchorage are located, is safe, and the harbor itself is protected from winds and waves from the north-east, which predominate during the winter season.
The guiding landmark to the harbor entrance is a tall sand dune with an oil storage facility under it. Entry at night is possible, but not recommended due to local trade ships anchored with no lights.
The anchorage is located at 12-40.50N 54-04.42E. To get to the anchorage, you will need to pass numerous cargo and fishing boats at anchor.
Clearance
This is an official Port of Entry.
See the Noonsite/Yemen/Formalities page for full details of clearance.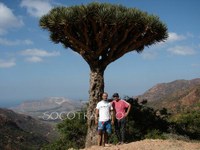 Immigration and the Port Authority want to know in advance about the arrival of yachts on Socotra. This can avoid any misunderstanding with security at the seaport.
A few days in advance of your arrival send an e-mail (with a copy of all passports, name of the boat, ETA) to your agent. For a list go to Socotra Clearance Agents.
The agent will inform the officials about your visit and prepare all the necessary papers.
When you enter the harbor, a security boat will meet you and help choose a place to anchor.
A port official will check the number of people on board, after which you will be allowed to go ashore by dinghy. Port staff will need your passports, ship papers and last port clearance for check-in and visa. At the same time a customs officer will do a quick yacht inspection.
Formalities cost approx. US$250 including agent fees.
By Yemeni law,  you can receive a permit to come ashore without a visa.  Immigration authorities collect your passport and give you this permit.
Fees for Immigration services is US$50 per person if you stay for a week and US$100 if you stay up to a month.
See Yemen Formalities for further information.
Last updated:  March 2016.
Docking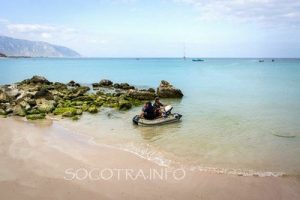 The anchorage is on the northern coast of the island, approximately 6NM east of Hadiboh.
Here you can anchor in five to seven meters in good holding just west of the pier. This will keep you out of the way of small trade ships coming alongside the pier.
There are no moorings, so you have to use your own anchor.
Dinghies can land on a small beach near the western base of the pier by the port security tent.
Socotra in Summertime
During the southwest monsoon, the north shore of Socotra experiences strong offshore winds from the mountains. The port area gets very strong and gusty winds from all directions. The only acceptable place for anchoring from early June to early September is at  Position: 12°41′20″N, 54°08′20″E – at Delisha. This anchorage is located in front of a campsite. It is very protected.
Shore Services
Hadibo, the capital of Socotra,  is 15 kms (9.5 miles) from the port. There is no public transport between them. A trip to the city and back can be organised by the agent and costs US$30.
In the city, there is a good choice of fruit, vegetables, fish, seafood, you can even find goat's meat, excellent sweets and bread. Be sure to taste the local bananas, papaya and tomatoes. Local goods are very cheap. There are lots of shops with imported basic goods at close to European prices.
Fuel (in small amounts) can be bought from a petrol station on the way from the port to the city. If you need more, they can deliver to the pier. The price for diesel is US$15 per 20 litres, same price for petrol (US$0.70/litre). You can get fuel from a tanker at commercial prices as for cargo ships.
Water can be delivered to the port by tank truck at US$ 20 for 1,000 litres.
As for repairs, you are limited to what local car garages can offer.
Last updated:  March 2016.