Previous Page
General Info
Galle is a small town on the southwestern tip of Sri Lanka and a Port of Entry.
Whilst the harbor is dusty, noisy and quite dirty, the old Dutch Town part of the city is beautiful and worth visiting.
During the civil war that dragged on from 1986 to 2009, this "tourist" harbor was considered the only safe place for visiting cruising yachts to clear into the country, however now Trincomalee on the NE coast is also considered a safe port for clearance.
Mirissa, just SE of Galle, is the largest fishing port on the south coast of Sri Lanka, but also has a small marina that welcomes visiting yachts.
See this useful report with feedback from cruisers who have visited Galle – Galle: Updates from Cruisers
Position 6° 02″N, 80° 13″E
Clearance
To enter Galle, you must use an Agent.
See Sri Lanka Formalities for full details on clearance.
See Sri Lanka Agents for a list of available agents.
It is recommended that you call your chosen agent on VHF about half an hour out (before calling Port Control), and again as you get closer. They will contact the officials to meet you in the bay.
Arrival in Galle
Your arrival should be timed for daylight as entering the harbour at night is prohibited. Yachts arriving after 18:00 or at night should anchor behind Watering Point (the Peace Pagoda is lit up at night) in 10m of hard sand. The Port Captain refers to this anchorage as "Jungle Beach". This is a much calmer spot to enjoy a peaceful night's sleep.
Arriving yachts must also call the Port Authority on VHF Channel 16, approx. 1.5NM outside the inner harbour, to notify them of arrival. If you have not yet appointed an agent, they will organise military clearance and recommend an agent for you to use.
They will ask you to anchor outside the pier (anchor near the yellow buoys opposite the entrance and allow room for ships to manoeuvre in and out), to wait for the Navy, who could take anything from 10 minutes to 1 hour to arrive. They will arrive in a large fibreglass launch and probably 3 men in big black boots will want to come on board. Have big fenders ready. They will want to look at your passports and escort you to a place where you can moor and meet up with your agent to finalise the paperwork.
The harbour has a boom across the entrance with a narrow channel around the southern end. The navy will either direct you to go on the pontoon near the entrance (stern or bow-to with an anchor out) or anchor fore and aft in the inner part of the harbour. The southerly wall is the best choice as it is the most protected with the minimum swell. Med moor with plenty of chains.
You agents representatives should be waiting for you to help with lines (notified of your arrival by the Port Captain). Once the Navy leaves, Customs, Health and Immigration will take it in turns to come aboard.
Be aware that officials here may ask for "considerations" after having been on board. Do not be intimidated into doing so, if you do not wish it. There is a notice at the Port entrance stating it is an offence to offer, receive or request any bribe.
After the clearance procedure is finished you can move the boat to another position in the harbour/Mirissa as long as the harbour master approves. Request this in advance via your agent.
Note: In case of Emergency, the captain can come ashore and contact Customs and Immigration at the gate and inform the Port Authority of arrival. The captain can also appoint an agent whilst ashore.
Last updated May 2017.
Docking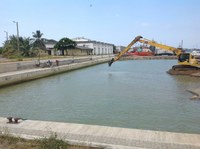 The facilities for yachts in Galle have improved slightly in the last 2 years with the construction of new quay space (not a marina by western standards) and services such as electricity, pumped water, garbage disposal, shower and canteen facilities.
However, it continues to be dusty, dirty and quite noisy and there is no water available to wash your boat with. Cruisers report that the port, although protected, suffers from surge and it is a long walk around to the main gate of the port and quite a distance into the beautiful old town centre. The cost for the  5-10 minute tuk-tuk-ride, however, is only 1 USD.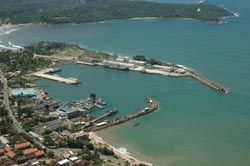 Mooring Options
New quay space for visiting yachts is located in the inner harbour, immediately south of the New Pier behind the floating pontoon close to the port gate (photo courtesy of Tango Shipping). In comparison to the plastic pontoons that were in place back in 2014/2015, this new berthing facility is relatively free from cement and noise from the cement trucks' loading and unloading operations.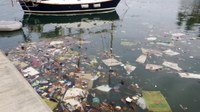 That said, however, cruisers report that dirt and filthy harbour water continue to be a problem here.
Currently, about 10-12 yachts can be moored inside "the marina", stern-to the quay. When it is full, yachts are given spaces alongside vacant piers.
The northern wall suffers greatly from surge and can become untenable. The eastern wall is better, but as tucked into the starboard corner as possible. The western again suffers from surge and because it is higher your lines will chafe. The remaining southerly wall is the best choice with a Med moor. You will be across the wind so make sure that you (and your neighbours) have plenty of chains out.
Mooring is only permitted in the inner harbour (mooring buoys elsewhere have been removed). The Fisheries Quay (in the north of the inner harbour), is restricted to berthing for fisherman only.
Anchoring is possible between Closenburg Pier and the middle pier.
The harbour is open 24/7 but is busiest between 0600-1000 when the fishing boats return, the whale watchers leave and the fish market opens. Repair services available.
Facilities
The authorities have provided a toilet block for yachts. It is not permitted to take water from here by jerry can. If water is required, you should contact your agent who can organise a delivery (there is no water on-site). A minimum of 1 metric ton of water can be organised.
Electricity must be requested via your agent, who can also arrange for extension leads and connection. Note that electricity is expensive. Keep an eye on your meter reading.
A limited amount of fuel can be carried inside the port by jerry can, although this tends to depend on who is on the gate at the time and multiple trips will not be permitted.
Cruisers are expected to pay for rubbish disposal (often called the junkman) when disposing of hazardous items like oil, batteries etc. Your agent can advise on how to organise this.
Port Pedestrian Access
The port is guarded by port security, there is one gate with a checkpoint. A port pass is required for entering and leaving the port (several pages long), received when clearing in. Expect your shopping to be inspected on your return. If you are bringing in too much, expect both security and customs to be "unhelpful". So shop in small doses.
Taxis/tuk-tuks are not allowed to pass the checkpoint. The tuk-tuk drivers can be very helpful if you are trying to source something.
See General Services for local companies who can assist with travel arrangements, provisioning, laundry, taxi service and local advice.
This report – Galle: Updates from Cruisers – has a lot of useful advice if planning on stopping here.
Mirissa
There are a few rickety pontoons in the outer harbour in Mirissa owned by a catamaran charter company called Sail Lanka. This is the best place to look for docking space. There is a lot of wakes here from the fishing fleet (hundreds of them) and whale watching boats. Being beam onto these wakes is uncomfortable and requires good rendering.
There are very few anchorages around the coast apart from the Watering point, which most people go back to when leaving to clean the bottom of their boat. (You cannot clean it in the harbour and diving anywhere in the harbour area is forbidden).
Not that the lack of anchorages is important as you are unlikely to get permission to go to any. If you do manage to get permission you cannot go ashore. If any officials see you with a dinghy over the side you will be arrested.
Last updated May 2017.