Previous Page
General Info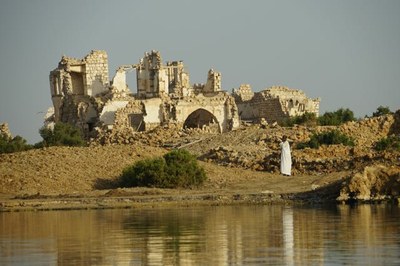 Although now in ruins, this ancient port was an important trading centre for 3,000 years. It was built with coral which required constant maintenance and once trade moved to the more modern port of Sudan, it quickly fell into disrepair.
It is located about 30NM south of Port Sudan.
This is a good first landfall after crossing of the Gulf of Aden as it is not necessary to clear into Sudan to visit here, and refuelling and provisioning here is easy.
Position:  19° 08.42'N, 37° 22.17'E (port entrance)
Clearance
See Sudan Formalities for full details on clearing into and out of the country.
Although Suakin is not an official port of entry, boats arriving here from the south have been allowed to clear into Sudan and formalities are reported to be simpler than at Port Sudan.
On approach, be sure to call Port Control on Channel 14.
Try to contact Mr Mohamed Abubaker, the local agent, by e-mail [email protected]) a number of days before arriving, giving him as much detail as possible i.e. estimated arrival time, nationality, number of crew etc. Mohammed (phone: +249 912 142 678) will, in any case, know of your arrival, as a result of your call to port control, and will be waiting for you on the south side of the Old Town island inside the harbour. He will attract your attention and you will need to collect him in your dinghy.
He will then accompany you to authorities to help with formalities (he charges about US$150 for two crew for all formalities, shore passes for a week and for his services). Clearance fees are less than at Port Sudan.
You need to provide 5 copies of your crew list, 2 copies of your passport 1 passport size photo for each crew member plus your passports. Mohammed will do all the paperwork, pay the fees and bring back shore passes the same day or next morning, depending on the time you cleared in. Shore passes can be renewed at US$10 a week. Nothing extra for anchoring.
Mohammed can also help obtain fuel and good water (by jerry can), laundry, gas refills, fresh produce, as well as trips to Port Sudan and will exchange USD to the local currency (Sudanese Pound). Bear in mind however that the charges for these services and it is possible to do it yourself.
Formalities must be gone through again if continuing to Port Sudan. Formalities are simpler if one arrives with a Sudanese visa. Passports are retained until clearing out.
To check out, give Mr Mohamed 24 hours' notice. He will take your shore passes and return some 2 hours later with your passports and a sailing permit from Suakin to your next destination. He can obtain a cruising permit for cruising up the coast to Port Sudan through the Sudan reefs. This is recommended to avoid any problems (see comment at bottom of page). Using Mohammed, clearing out is simple, fast and efficient. He is extremely good and will offer help and advice on anything and everything. Nothing is too much trouble for him.
Last updated: March 2018.
Docking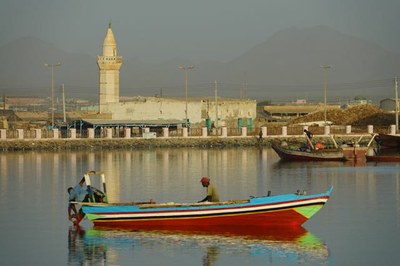 Photos from SY Kandu (April 2018).
The approach to the inner harbor is shallow but easy if you can avoid being distracted by the fascinating surroundings.
Very good all-around shelter.
Last updated:  July 2017.