Previous Page
General Info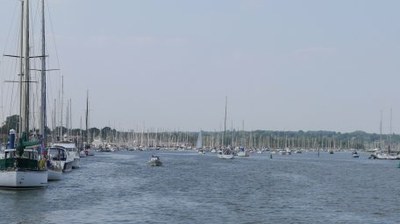 This river is probably one of the most recognised names in the sailing world. It lies on the eastern bank of Southampton Water. It is navigatable by masted vessels for about 3 miles up to the Bursledon Bridge. Photo courtesy of SY Suwena.
Position 50°50.82'N, 01°18.63'W (river entrance)
Docking
Southampton has five marinas, several boatyards and four yacht clubs lining its banks, and is packed with pile and trot moorings. With boat tenders buzzing back and forth, sailing dinghies tacking their way upriver, and any number of the 3,000 yachts which call the Hamble their home, on the move, this is a very busy place.
Sailing is allowed in the river, but is not a recommended option for the stranger, and wash should be kept to a minimum. There are no anchorages at all here. Great care is required when mooring as the ebb can run through the berths at up to 3 knots and the pontoons are tightly packed.
As in all the Solent area, there is a double high water, which results in nine hours of flood tide and three of ebb.
All the marinas and boatyards have a chandlery, and if they do not have a bar/restaurant on site, there will be one not far away.
Last updated March 2017.
Yacht Clubs
All the yacht clubs on the river offer a friendly welcome to visiting yachtsmen. They all have bars and serve good food.
Places
South Coast, Southampton (River Hamble), United Kingdom