Previous Page
General Info
This is one of the most popular sailing areas on the east coast. The sheltered waters of the Blackwater stretch from West Mersea in the east to the head of tidal navigation at Maldon to the west.
The river is great for kayaks and canoes, dinghies & sailing boats, plus it has one of the only natural Salt Water swimming pools in the UK!
Position: 51° 45.40'N, 00° 57.00'E (Blackwater entrance)
Docking
The approach to Tollesbury Marina at the end of Woodrolfe Creek, west of Mersea Island, is now marked with lit buoys (see photo below). Tollesbury is a pretty and relaxed waterside village ideal for families and walkers (there are great walks nearby on the seawall, past the wildlife sanctuary and out along the river Blackwater or shorter walks around Tollesbury). Tollesbury Marina has excellent facilities on site and it's just a short walk into the village.
Further up the Blackwater, on the southern bank, is Bradwell Marina followed by the Blackwater Marina a further 6nm up the river on Maylandsea Creek.
Careful note of the tides needs to be taken if proceeding even further up-river to the lock at Heybridge Basin or to Maldon.
There are plenty of anchorages in the river if a boat can take the ground.
River Blackwater Harbour Master
Tel:+44(0)1621 856487
Last updated April 2016.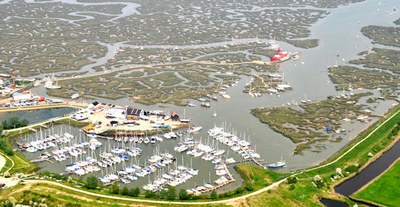 Brightlingsea Visitors' Pontoons
Yacht Clubs
Places
East Coast (UK), River Blackwater, United Kingdom