Previous Page
General Info
Southampton Water and The Solent encompass a large area of protected water and is probably one of the busiest and most famous sailing areas in the world. Not only is it home for thousands of leisure craft, it is a port for very large container and tanker vessels, cruise liners and ferries of all descriptions. Consequently, it is advisable to be very alert when transiting these waters and to have up-to-date charts and sailing instructions. Add to this, fast tides, a shallow bank, various defensive forts and a submerged barrier, and you have a very interesting mix! Another thing to add is that it is never boring sailing here!
The area is generally divided into the East and West Solent, with Southampton Water and the River Medina at Cowes forming the dividing line. The East Solent has the harbours of Portsmouth, Langstone and Chichester on the mainland, and Ride and Bembridge on the Isle Of Wight. The West Solent has The Beaulieu River and Lymington on the mainland and Newtown and Yarmouth on the Isle of Wight (IOW).
Position: 50° 42.06'N, 01° 32.75'W (Western entrance)
Clearance
All yachts arriving from outside the EU must contact HM Customs and Excise.
Docking
Care needs to be taken when entering the Western Solent via the Needles Channel (western entrance) as in strong wind over tide conditions it is dangerous.
The eastern entrance to the Solent is navigable at all states of the tide.
When planning to use a berth in a marina, it is wise to call ahead, and you will then be allocated a berth number and advised which side to you will be mooring. Most marinas in this area do not have dedicated pontoons for visitors but slot them into available spaces.
Apart from marinas, the Solent has many mooring buoys and anchorages which can be used.
Until very recently there was no harbour on the southern shore of the IOW, but now there are breakwaters at Ventnor providing a small refuge.
Beaulieu River and Buckler's Hard
Take care to follow the entrance channel markers as the river runs parallel to the shore (with the seaward bank being covered at high tide) for about a mile before turning inland.
There is a charge for anchoring in the river. Mooring buoys are also available (limited availability), however more tend to be available beyond the marina. Wonderful for peace and isolation. Berthing masters patrol the river in dingies and collect fees.
The marina at Bucklers Hard has all facilities (see photo below by SY Suwena).
Last updated April 2016.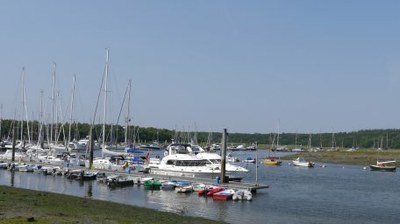 Lymington Town Quay & Lymington River
Yacht Clubs
Places
South Coast, The Western Solent, United Kingdom