Previous Page
General Info
Southampton Water and The Solent encompass a large area of protected water and is probably one of the busiest and most famous sailing areas in the world.
Not only is it home for thousands of leisure craft, it is a port for very large container and tanker vessels, cruise liners and ferries of all descriptions. Consequently, it is advisable to be very alert when transiting these waters and to have up-to-date charts and sailing instructions.
The principal deep-water navigational channels within the statutory limits of the Port of Southampton are well marked by buoys and lights. These channels are in constant use by commercial vessels, including large deep draught tankers (VLCCS), container ships, ferries and other traffic.
Recreational users of the harbour are advised to keep well clear of these main channels whenever possible and use the recommended crossing areas. When main channels have to be crossed, this should be done as nearly as practicable at right angles. AVOID CROSSING THE BOWS OF ON COMING COMMERCIAL TRAFFIC. Large container ships and VLCCs, in particular, have very restricted visibility for quite a distance ahead when carrying a deck cargo of containers. You may be able to see her clearly, but can she see you?
Add to this, fast tides, a shallow bank, various defensive forts and a submerged barrier, and you have a very interesting mix! Another thing to add, is that it is never boring sailing here!
Position: 50° 49.05'N, 01° 17.49'W (off Calshot Spit)
Clearance
If you are arriving or departing from any country outside the EU, including the Channel Islands, you must complete the customs form C1331. These forms are available from the marina office.
HM Revenue & Customs (Helpline) 0845 010 9000
Docking
When planning to use a berth in a marina, it is wise to call ahead, and you will then be allocated a berth number and advised which side to you will be mooring. Most marinas in this area do not have dedicated pontoons for visitors, but slot them into available spaces.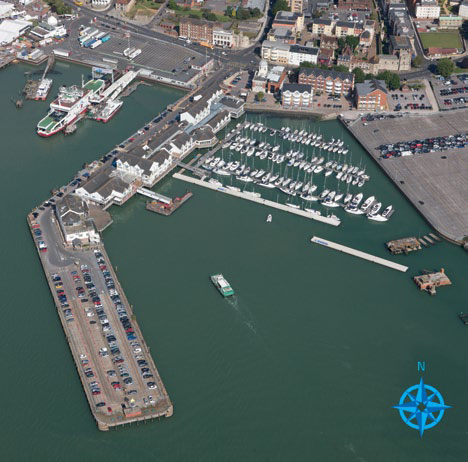 Apart from marinas, there are many mooring buoys and anchorages which can be used.
It is advisable to monitor VHF channel 12, the Port working frequency, which broadcasts traffic information for small craft (call sign VTS). Web: Southampton VTS.
The relatively shallow water in this area can quickly build up to an unpleasant "Solent chop" in a fresh wind, but shelter is not usually difficult to find.
For information on the River Itchen and River Hamble see the separate entries.
Town Quay Marina
The marina entrance is a dogleg between two floating wave breaks that appear continuous from seaward (see photo). Call VHF Channel 80 on approach. The marina offers 24/7 berthing assistance. Beware of the adjacent Red Jet Hi-speed ferry. Craft > 20m must get clearance from Southampton VTS to enter/depart the marina (VHF Channel 12).
Last updated April 2013.
Related Businesses
Hythe Marina

Address: Shamrock Way, Hythe, Southampton, SO45 6DY

This marina village is on the western shore of Southampton Water, about 5 miles north of Calshot. Access is 24 hour, through a lock. Minimum... Read More

Town Quay Marina

Address: Town Quay, Southampton, Hampshire, SO14 2AQ

One of four marinas owned and operated by Associated British Ports; the others being at Ipswich, Lowestoft, and Fleetwood. Located on the eastern shores of... Read More
Yacht Clubs
Related Businesses
Marchwood Yacht Club

Address: Magazine, Maritime Avenue, Marchwood, Southampton, SO40 4AD

Royal Southampton Yacht Club

Address: 1 Channel Way, Ocean Village, Southampton, SO14 3QF

Royal Southern YC

Address: Rope Walk, Hamble, Southamapton, SO14 3QF

Southampton SC

Address: Victoria Road, Southampton, SO19 9EF

Located at the North end of Southampton Water, on the Eastern shore at the mouth of the River Itchen.... Read More

Warsash SC

Address: Shore House, Shore Road, Warsash, Southampton, SO31 9FS

Weston CC

Address: Southampton,

Weston Sailing Club

Address: Abbey Hill, Netley Abbey, Southampton, SO31 5FB
Places
South Coast, Southampton Water, United Kingdom