Previous Page
General Info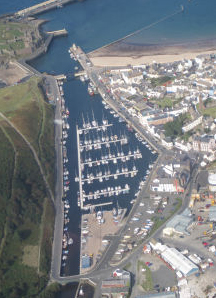 Peel is the only real harbour on the west coast of the island. It is famous for its kippers, which are reputed to be some of the best to be found anywhere in the UK.
Position: 54° 10.63'N, 04° 41.67'W (harbour entrance)
Docking
Photo of Peel marina from Andrus Rajaniemi
The harbour here gets very crowded during the TT motorcycle races at the end of May/early June.
There is a tidal gate across the inner harbour entrance to allow vessels to remain afloat. Access is HW+/- 2 hours.
The lifting bridge ovens on request on the hour and half hour. Call 'Peel' on VHF channel 12.
In the outer harbour, there is a dredged channel alongside the breakwater, giving 5 metres at low water. A summer only pontoon is available for short periods at all states of the tide at the Battery Pier (by No. 14 Berth).
The shelter is good except in strong NE to NW winds.
Last updated: December 2016.
Related Businesses
Harbour Master – Peel

Address: Peel Harbour Office, East Quay, Peel,

Harbour Masters Office is adjacent to the cill and swing bridge.

... Read More

Peel Marina

Address: The Harbour Office, East Quay, Peel, IM5 1AR

120 berth marina with pontoons providing electricity and water. Full range of facilities including showers/toilets, laundry, chandlery, fuel and gas. No boat hoist but mobile... Read More
Yacht Clubs
Related Businesses
Peel Sailing and Cruising Club

Address: The Rocket House, Shore Road, Peel, IM5 2AH

http://www.peelsailingclub.com [Broken link]

The clubhouse is on the promenade overlooking the bay and extends a warm welcome to all visiting sailors. It has shower facilities, a... Read More
Places
Isle of Man, Peel, United Kingdom