Previous Page
General Info
Alanya is a seaside resort located on the eastern side of the Gulf of Antalya. It is 120 kms (74.5 miles) from the city of Antalya. It is attractive all year, with a castle and many historical sites in the vicinity.
The old village has almost remained untouched by the later development now surrounding it.
The new marina that opened here at the end of 2009 facilitates cruising eastwards to Cyprus, Syria, Lebanon & Israel.
Position:  36°33.40'N, 031°57.16'E (harbor entrance)
Clearance
This is an official Port of Entry.
For the full details on clearance go to the Noonsite/Turkey/Formalities page.
Customs patrol the harbor. The immigration office is on the waterfront and other authority offices are in the town.
Docking
The old breakwater has been extended NE and a new breakwater built out from the beach towards the SE, forming a protected anchorage which has been dredged.
It is also possible to anchor just to the NE of the harbor.
The new marina has been built about 3NM NW of the town. In the past, the marina suffered considerably from reflected swell when the wind is from an S/SW direction (in particular during the winter months). For the winter of 2011/12 Alanya marina completed the installation of anti-surge protectors, which cruisers report seem to be effective. Over the winter of 2012/13 a protective breakwater was built and the marina report it seems to be working well in stopping the swell.
Last updated: March 2014.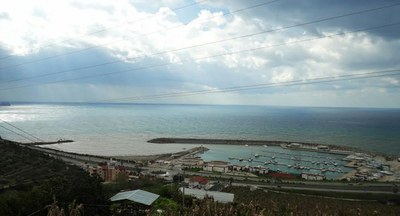 Places
Alanya, Eastern Med, Turkey