Previous Page
General Info
This sleepy little port on the southern shore of the Dorian Promontory (Datca Yarimadasi) is a very pleasant place to stop and to stock up with provisions.
Position:  36° 43.31′ N, 27° 41.34′E (harbor entrance)
Clearance
This is an official Port of Entry.
For the full details on clearance go to the Noonsite/Turkey/Formalities page.
Go to Clearance Agents to see a list of agents to assist with clearance and a transit log.
The Harbour Master is on the south breakwater.
Docking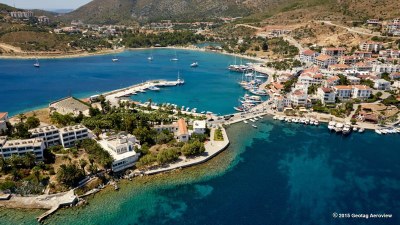 The harbor has been improved, and a pontoon covers the shallows in front of the quay wall. Berth stern-to on the town quay where possible. Normally there are marineros to assist in the summer months. Berthing costs are very reasonable and include water and electricity.
The shelter is good, although southerlies can cause a surge at the berths, when anchoring off is a better option.
In the summer, this is a crowded harbor and it may be necessary to anchor off anyway, either in the north or south bay. Good holding in sand and mud.
The pump-out station here is reported not to have the correct fittings for small yachts to pump out.
Last updated:  August 2016.
Places
Aegean Sea, Datca, Turkey