Previous Page
General Info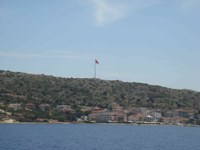 The town of Cesme is tucked in on the western side of the peninsula of Kalem Burnu, opposite the town of Khios (Chios) on the Greek island of the same name. It is an attractive small town and a popular tourist destination with good beaches.
Photo: Approaching Cesme (courtesy of MV LeeZe)
Position :  38°19.54' N, 026°17.92' E (harbor)
Clearance
This is an official Port of Entry.
For the full details on clearance go to the Noonsite/Turkey/Formalities page.
The Customs and Immigration Authorities are in the Ferry Terminal building and the Health Authority and Harbour Master in the SE corner of the port.
The formalities can also be completed at Setur Cesme Marina by visiting officials.
June 2014 cruisers reported that the Blue Card Scheme (black and grey tank regulations) is currently not being enforced at this port.
Docking
The Camper & Nicholson marina (opened June 2010) in the center of Cesme provides excellent facilities and the Setur Cesme marina, on the opposite side of the peninsula, provides fully serviced berths. In addition, there has now been developed another marina at Port Alacati, about 15NM south of Cesme.
It is possible to anchor off the town, however, it is difficult to find a spot protected from the N/NW wind. There are also a few forbidden zones in this harbor.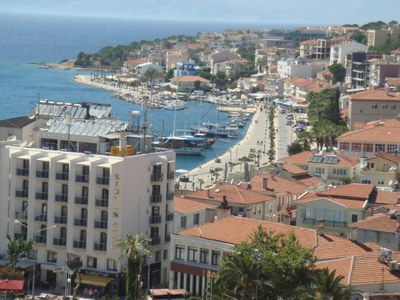 It may be possible to come stern-to the town quay (Med-moor using your own anchor), which gets busy with gulets and charter boats. Speak with the Harbor Master. There is no electricity here, but water can be delivered by tanker. The city is working on getting shore power and water to the quay. The town quay is better protected from Northerly winds but offers little protection from Southerly ones. If the wind blows hard from the South it is advisable to move to anchor in the middle of the bay or to a protected bay south of the harbor. There are several good anchorages in the area.
(Photo of town quay courtesy of MV LeeZe, June 2014).
Last updated June 2014.
Yacht Clubs
Places
Aegean Sea, Cesme, Turkey