Previous Page
General Info
Marmaris sits in the corner of a most attractive and sheltered bay. It is a busy tourist town and an important yachting center. Very little remains of the old city after the earthquake of 50 years ago.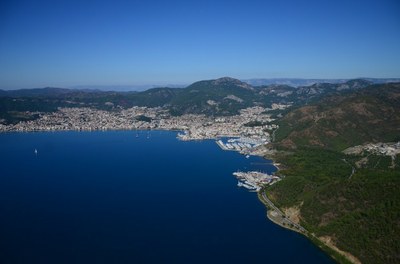 There is an active cruising community here and the Marmaris Bay Cruisers is a great way to find out about activities and events, plus a plethora of useful local information (our thanks to them for the great photo of Marmaris Bay). They run a morning net – times currently Monday, Wednesday and Friday on VHF Channel 69 from 09:00 (lasting between 10-15 minutes) and their website has a lot of useful information for cruisers in Turkey: http://cruisingtips.net/mbc/
Position:  36°50.93'N, 28°16.60'E (Marmaris Nestel marina)
Clearance
This is an official Port of Entry.
For the full details on clearance go to the Noonsite/Turkey/Formalities page.
Clearance cannot be done at the marina, yachts must go to Marmaris town (photo of Marmaris harbor by Gwen Bylund). Berthing for clearance is on the small pontoon between the Coast Guard station and the ferry dock. You will get help with mooring. There is a 10 Euro charge for mooring here for clearance.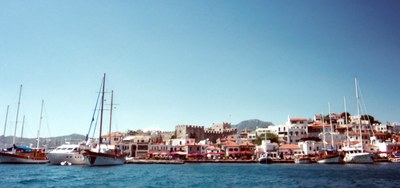 All authorities are to be found on the waterfront and are generally very helpful. Check-in can only be done through an agent, which the customs/police will call for you. Once the agent arrives the procedure is reported to be swift and efficient.
Last updated: October 2018
Related Businesses
Docking
There are several marinas to choose from in Marmaris Bay, as well as the option to anchor.
In the last few years, prices have increased here, so it is wise to inquire at several marinas along the coast before deciding where to haul out or berth long term.
Anchoring
With the prevailing wind being from the west, the NW side of the bay provides the most comfortable spot. It is good holding if you penetrate the weed and dig into the sand below.
A good alternative can be found in the small bay of Ciftlik, behind the rock island Ciftlik Adasi (about 8NM SSE of Marmaris). Either anchor (weed/sand bottom), or tie up to one of the many (5+) restaurant jetties. On entering the bay there are likely to be several different hosts waving their flag to attract your attention to their jetty. Many provide water, electricity, and showers too. If you need to go to Marmaris for supplies, parts etc., there is a good minibus service there & back twice per day from Ciftlik. A very scenic trip, and very reasonably priced.
Turgut (just outside the gap of Marmaris Bay) is where Ellas Restaurant is located and offers a dock with lazy lines and boat boys to help you with mooring. The water is reported to be crystal clear here and the facilities ashore very welcoming.
The "Blue Card" waste disposal monitoring scheme started to be enforced here at the beginning of 2012. The Blue Card theoretically relates to the whole of Mugla province, north of Bodrum to just north of Kas. Find out more about requirements here.
Note: Winter pump-outs, we have been advised, are not offered by the Turmepa boat nor is the pump out  "trolley" in Netsel in use. Instead, for Marmaris Bay, the man at Netsel who operates the fuel dock, "B" dock,  during the winter until May sometime, also pumps out grey/ black water tanks.
Feedback from cruisers in Marmaris re. pump outs.
Last updated:  June 2015.
Related Businesses
Yacht Clubs
Related Businesses
Marmaris International Yacht Club

Address: Netsel Marina E 20, Marmaris, Aegean Sea, Turkey, 48700

Marmaris Yacht Marina

Address: Adaköy, Yalancı Boğaz Mevkii, Marmaris, Mugla, Turkey,

Position:  36°49.05'N, 28°18.32'E

Also known as Yacht Marin.

All facilities, laundry, WiFi, mini-market, ATM, yacht club, restaurant and chandlery. Boatyard with three travel hoists (up to 330 tons). All repairs available. Free ferry service into town. Swimming pool. 24 hour security and first aid station. No pump-out facility. No mention of fuel... Read More

Marti Marina

Address: Orthaniye Koyu Kecibuku Mevkil, Marmaris, Mulga, Turkey,

Position:  36°46'N, 28°08'E

This marina is about 25 kms (15.5 miles) from Marmaris. Splendid natural bay.

All facilities, fuel berth, laundry, WiFi, pump-out facility, ATM, provisions, chandlery, yacht club, swimming pool, bars, and restaurants. Boatyard with a 60 ton travel lift.... Read More
Places
Aegean Sea, Marmaris, Turkey