Previous Page
General Info
COVID-19 Yachting Protocols: See Biosecurity for full details.
Description:
Marmaris is sheltered in a niche of a picturesque and expansive clear water bay. It was originally a quiet fishing village. Today, Marmaris is a busy tourist town during summer and autumn. It is also an important year round yachting center.
Old Town Marmaris features an Ottoman castle rising from the peak in the centre of the old town. It is clearly seen from below by yachts entering Port Marmaris. This rather awesome view extends to the southern end of Marmaris bay. The castle was in ruins as a result of an earthquake that occurred 50 years ago, but over several years it was restored. The castle has a small museum and during the Spring and Fall the castle grounds become a venue for concerts. The original houses have also been restored and form a maze of quaint lanes idyllic for strolling around.
History notes that the English Lord Nelson anchored his ships in Marmaris Bay for the preparation of his fleet there in 1798 before sailing out to defeat Napoleon's navy at the battle of Abukir.
The bazaar at the foot of the castle caters to the local population as well as to foreigners. Here one can purchase spices, silver and gold jewelry, clothing, leather goods, and almost anything imaginable, including baklava and the popular Turkish Delight sweets. During religious and national holidays, the bazaar expands to other areas of the city.
Marmaris has, in addition to quality Turkish food restaurants, the usual fast food restaurants such as McDonalds, Burger King, Starbucks, Bono etc. The seafront of Marmaris hosts a plethora of international restaurants, Chinese, Mexican, East Indian, and Continental.
Cruiser Highlights:

Large anchorage with long sandy beach; active cruising community in Netsel and Yat Marinas; weekly coffee hour for cruisers; easy provisioning and shopping; many attractions; variety of dining options; large sport and fitness center with tennis courts; trekking; caving. Marmaris Bay Cruisers website [http://cruisingtips.net/mbc/ and https://cruisingtips.net/mbc/?p=2050] is a great way to find out about activities and events, plus a plethora of useful local information (our thanks to them for the great photo of Marmaris Bay).
Position:
36°50.93'N, 28°16.60'E (Marmaris Nestel marina)
Clearance
Marmaris is an official Port of Entry.
See Turkey Formalities for full details on clearing into and out of Turkey.

Clearance is not handled by the marinas. Agents are no longer necessary. Cruisers may themselves perform the process of customs and immigration or use an agent. It is better if, for the first check into Turkey and Marmaris, that an agent be consulted since not all officials are located in one building and many do not speak fluent English. Visit http://cruisingtips.net/mbc/ for agent recommendations.
Photo of Marmaris harbor by Gwen Bylund.
With advance booking with an agent, cruisers are usually met on entry once they have berthed. Berthing for clearance is on the small pontoon between the Coast Guard station and the ferry dock. You will get help with mooring.
If one bypasses the use of an agent, a transit log for your boat may be obtained in a transit office near the waterfront. Get its exact location from either Netsel or Yat marina.
The office responsible for visas and other resident permits moved in early 2020 to Marmaris, making applications much easier. See Immigration for details.
Last updated: March 2021
Related Businesses
Docking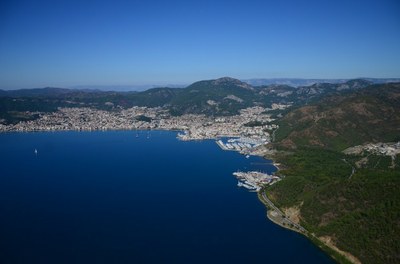 Anchoring
The large curved Marmaris Bay provides a large anchorage with a long sandy beach. With the prevailing wind being from the west, the NW side of the bay provides the most comfortable spot. It is good holding if you penetrate the weed and dig into the sand below.
A good alternative can be found in the small bay of Ciftlik, behind the rock island Ciftlik Adasi (about 8NM SSE of Marmaris). Either anchor (weed/sand bottom), or tie up to one of the many (5+) restaurant jetties. On entering the bay there are likely to be several different hosts waving their flag to attract your attention to their jetty. Many provide water, electricity, and showers too. If you need to go to Marmaris for supplies, parts etc., there is a good minibus service there and back twice per day from Ciftlik. A very scenic trip, and very reasonably priced.
Turgut (just outside the gap of Marmaris Bay) is reported to have crystal clear water and the facilities ashore are very welcoming.
Sea beds along Turkey's coast and bays are not all the same. Some are grass and hard to hold even if the anchor is properly set. Other sea beds are sand and mud. There are also sunken boats! In the main, take note of where the gulets (Turkey's traditional wooden-hull boats) anchor or do not anchor.
Marinas:
There are several marinas to choose from in Marmaris Bay, as well as the option to anchor. Most provide laundry, Wi-Fi, mini-market, ATM, yacht club, restaurant and
boatyard with travel hoists. Some have swimming pools (i.e. Netsel and
Yat marinas).
Over the last few years, prices have increased. It is wise to contact several marinas before deciding where to haul out or berth long term ("deals" may be offered by some marinas.)
Most marina staff speak English, Russian and German.
Last updated: March 2021
Waste Disposal:
See Restrictions for details on disposal of black and grey water in Turkey.
Pump outs can be done at the fuel dock in Netsel Marina and at Yat Marina.
For pump out in Marmaris call Turmepa at 0539 437 4430 one day in advance and tell them the bay you are in. They will come to pump out your holding tank(s). Winter pump-outs, are not offered by the Turmepa boat, nor is the pump out "trolley" in Netsel Marina in use. Instead, for Marmaris Bay, the man at Netsel who operates the fuel dock, "B" dock, during the winter until May, also pumps out grey/ black water tanks.
Feedback from cruisers in Marmaris re. pump outs.

Note: Turkey takes conservation and a healthy ecology seriously. Therefore:
1. Pump outs can be done at the fuel dock in Netsel Marina and at Yat Marina.
2. Throw absolutely nothing in the sea or bay or fresh water sources.
3. Do not carry out any repairs or work on yachts involving GPR, varnish etc. while your boat is in the water. All such work is performed on the hard.
4. Dispose of old oil, batteries, scrap, boat waste etc. in bins provided.
5. The forested hills surrounding Marmaris are, in some years, susceptible to fire so personal BBQs are prohibited aboard boats. If you would like to BBQ, the marina will set it up on land for you.
Last updated: April 2022
Related Businesses
Yacht Clubs
Related Businesses
Marmaris International Yacht Club

Address: Netsel Marina E 20, Marmaris, Aegean Sea, Turkey, 48700

This organization sponsors and arranges international races and rallies.... Read More

Marmaris Yacht Marina

Address: Adaköy, Yalancı Boğaz Mevkii, Marmaris, Mugla, Turkey,

Position:  36°49.05'N, 28°18.32'E

Also known as Yacht Marin.

All facilities, laundry, WiFi, mini-market, ATM, yacht club, restaurant and chandlery. Boatyard with three travel hoists (up to 330... Read More

Marti Marina

Address: Orhaniye Koyu Kecibuku Mevkil, Marmaris, Mulga, Turkey,

Position: 36°46'N, 28°08'EMarti Marina is not in Marmaris but is in Orhaniye, a 30-minute drive from Marmaris.This marina is about 25 kms (15.5 miles) from... Read More
Courtesy Flag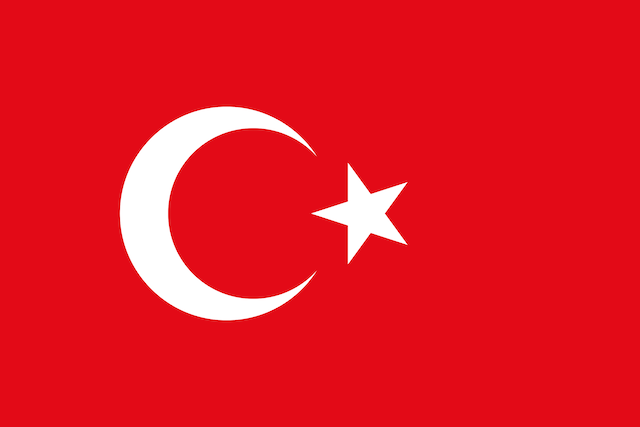 YachtFlags.com offers a discount to Noonsite members.
YachtFlags.com provides high quality courtesy flags that are manufactured in durable Knitted Polyester fabric. Knitted so that the fabric itself does not deteriorate in the constant movement that marine flags are usually exposed to, and polyester so that the flag does not weaken in the strong UV-light usually found in the main sailing areas of the world.
Use the coupon code NOONSITE_5A2B when checking out to get 10% off today.
Buy Now On YachtFlags.com
Places