Previous Page
General Info
Located at the western end of the Dardanelles, this port is the best stop for visiting Troy and Gallipoli. There is good shopping for provisions and good medical care, plus the bars and restaurants on the promenade are the perfect spot to have some Turkish tea and watch the sunset over the Dardanelles.
Position:  40° 09.27'N, 26° 24.34'E (marina entrance)
Clearance
For the full details on Turkey Formalities go to Noonsite/Turkey/Formalities.
All the necessary authorities are here. The Harbour Master is reported to be helpful and renewing the Transit Log here not a problem.
Last updated: February 2015.
Docking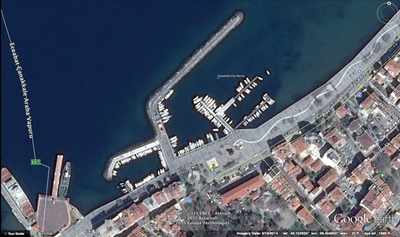 The harbor has a good, all-around shelter.
This google earth image shows the commercial ferry dock on the left, with a small harbor adjacent which is for fishermen (who also tend to use the larger harbor as well).
The yacht marina tucked inside the curved breakwater is a city marina, therefore facilities are basic. Visitors med-moor (stern-to/bows-to) at the SW end of the marina. There are mooring lines and helpful staff to assist, with the stronger lazy lines for larger boats at the western end of the quay near the port building.
There are plans to make another finger pier in 2015, with more spots for larger boats. Lazy lines have been strengthened in Autumn 2014.  Berthing fees are reasonable and include water and electricity.
It is not possible to anchor here.
This is a lively university town.
Last updated:  January 2015.
Related Businesses
Canakkale Yacht Harbour

Address: East Side of Dardanelles Strait, opposite Kilitbahir, Canakkale, Dardanelles, Turkey,

The marina in the SW corner of the main harbor is very reasonably priced compared to other Turkish marinas. Fuel, water and electricity in the... Read More
Places
Canakkale, Dardanelles, Turkey