Previous Page
Facts
COVID-19: Entry protocols for yachts have been affected by the pandemic. See the Biosecurity section for details.
Grenada is a three island state: Grenada, Carriacou, and Petite Martinique, located in the Eastern Caribbean at the south of the Windward Islands and 100 miles north of Venezuela. To the north lies St. Vincent and the Grenadines, to the south Trinidad and Tobago. Its capital is St. George's.
Grenada is also known as the "Island of Spice" due to its production of nutmeg and mace crops. It is a beautiful island with lush mountains and silvery beaches and many activities to do ashore.
The current population of Grenada is 113,235 (2021) and English is the official language, though it is not uncommon to hear nationals speak French-African Patois.
The Eastern Caribbean dollar is the local currency.
Grenada, Carriacou & Petite Martinique are in the Atlantic Standard Time Zone, one hour ahead of Eastern Standard Time and four hours behind GMT. UTC−4 (AST).
Average temperatures range from 24C/ 75F to 30C/ 87F, tempered by the steady and cooling trade winds. The lowest temperatures occur between November and February. The driest season is between January and May. Even during the rainy season, from June to December, it rarely rains for more than an hour at a time and generally not every day.
Grenada is the usual turning-point north for a cruise among the Windward Islands.
There are a series of wonderful bays along the southwest and south
coasts of Grenada, however, these tend to be large with poor holding and
many are not tenable in storm conditions. Water quality can be poor for
swimming.
Carriacou is the southernmost and largest of the Grenadines; relatively
undeveloped, it is attractive with its green hills, sandy beaches, and
sheltered natural harbors such as Tyrell Bay.
Petit Martinique is not often visited by yachts cruising the popular nearby Grenadines
(which belong to St. Vincent) as this means having to sail down to
Carriacou to clear it and then sail back. Once you are checked into
Grenada you can sail between the various islands of Grenada without
restriction.
Considered a good hurricane season option if hauling out, Grenada has great yachting services and an active cruising community.

Security
Yacht Security Assistance in Grenada:
VHF Channel 66 Repeater was privately donated to the Grenadian Government and is used by the Grenada Cruisers Net to provide coverage to all Grenadian waters. It can also be received in southern parts of St Vincent and the Grenadines and the northern parts of Trinidad including Chaguaramas Bay. The Grenada Cruisers Net is for weather, advice, security reports and information on many subjects to help make Cruisers' stay in Grenada more rewarding. It broadcasts Monday – Saturday at 07:30 and is a fully interactive radio net.
Yacht Security: Trinidad & Tobago Waters
In response to a number of incidents where yachts have been boarded and robbed on passage between Grenada and Trinidad, there is now a formalized convoy process which any yachts planning this passage can take part in. Set up by Jesse James and supported by YSATT, the Trinidad and Tobago Coastguard, and North Post Radio, this is a fun and safe way to get to and from Trinidad. Find out full details at this report.
All yachts transiting these waters should submit a float plan to the Trinidad & Tobago Coastguard. See this news report for more details. Even if taking part in a convoy, a float plan should still be submitted.
Latest Reported Incidents:
See more related security reports for Grenada.

Dinghy and outboard thefts are consistently reported from Grenada. If you leave your dinghy in the water tied just with the painter to the boat, it's highly likely you won't see it the next day. This is a common problem in the Caribbean and many other parts of the world. Be prepared and lock up all your valuables. Secure all loose items in the dinghy and lock the engine and dinghy at dinghy docks. Hoise and secure the dinghy and outboard to the boat at all times, but especially at night.
The Caribbean Safety and Security Net provide information by anchorage or by the island. If you experience a boarding, robbery or attack on your yacht or have information about a yachting-related security incident, go to the CSSN homepage and click on the "Report an Incident" icon.
Last updated: May 2021
Weather
The climate is tropical. The main hurricane season lasts from August to November, with a few smaller storms possible in June and July. Normally most hurricanes pass to the north of the island.
See the Caribbean National, Regional and Island Weather Websites report for more.
Grenada Cruisers Net
VHF Channel 68
Transmitted by voluntary cruisers and local businesses at 07:30 Mon-Sat, Channel 66i. 3 day offshore and local weather forecasts.
Related Businesses
Grenada Cruisers Net

Address: Grenada,

Transmitted by voluntary cruisers and local businesses at 0730 Mon-Sat, Channel 66i. 3 day offshore and local weather forecasts.... Read More
Courtesy Flag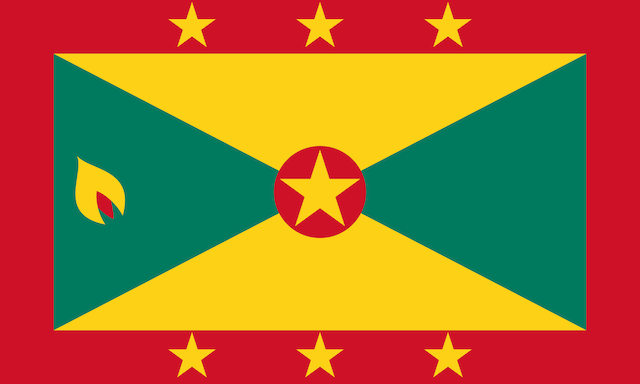 YachtFlags.com offers a discount to Noonsite members.
YachtFlags.com provides high quality courtesy flags that are manufactured in durable Knitted Polyester fabric. Knitted so that the fabric itself does not deteriorate in the constant movement that marine flags are usually exposed to, and polyester so that the flag does not weaken in the strong UV-light usually found in the main sailing areas of the world.
Use the coupon code NOONSITE_5A2B when checking out to get 10% off today.
Buy Now On YachtFlags.com
Places