Previous Page
General Info
COVID19: OPEN PORT
See Grenada Biosecurity for yachting protocols.
Description:
Located towards the southern end of the west coast of the island, the old harbour has seen tremendous restoration and is a most pleasant site to visit with internet cafes, restaurants, boutiques and souvenir shops.
Entrance Notes or Cautions:
From a westerly direction to north of Annas Shoal there is a well marked channel north-east of harbour, with a minimum depth of 19.5 metres, that leads almost to quay. About 800 metres before quay, the channel turns north and there are shoals either side.
Position:
12° 02.7'N, 61° 44.8'W.
Clearance
See Grenada Formalities for detailed information on clearing into and out of Grenada, including downloadable forms.
General Clearance:
The Customs and Immigration offices that were located at Grenada Yacht Club in St. Georges, have moved to a new office at the Port Louis Marina, and are located behind the Marina Office.
The Immigration office is open until 16:00, however, if going here to renew a visa, the payment section is only open until 15:00 (so hours for payment are 08:00 to 12:00 and 13h00 to 15:00).
Note: St Georges is a commercial port and the Port Authority charges an additional fee when you check-in here.
Last updated: January 2020
Related Businesses
Grenada Marine – General Yard Services

Address: PO Box 679, St. George's, Grenada,

Full service boatyard with extra wide Travelift (70 tons / beam 32′ / 9.75m). On-site chandlery and bar/restaurant. Customs clearance. Storage and repair facilities for... Read More

Grenada Ports Authority

Address: The Carenage, P.O. Box 494, St. George's, Grenada,

Grenada's official ports of entry are operated and administered by the Grenada Ports Authority, which regulates and controls navigation within port limits.Information on the official... Read More

Immigration Office – St. George's

Address: Botanical Gardens Complex, Tanteen, St. George's, Grenada,

Grenada's Immigration and Passport Department is an extension of the Royal Grenada Police Force and is responsible for administering and controlling the movement of people... Read More
Docking
Anchorages:
The Carenage or north basin is available as an anchorage for commercial vessels with depths from 9.1 to 20.1 metres. The Lagoon or south basin has depths from 4.9 to 8.2 metres and contains a yacht marina on its west side. The entrance channel from the Carenage to the Lagoon has a depth of 3.4 metres.
There are two areas for anchoring in the St George's area: outside along the cliffs at Martins Bay and inside the Lagoon. The northern bay, the Carenage, is not available for non-commercial vessels.
The anchoring space inside the Lagoon is shrinking and the remaining "free anchoring" space in the northeast sector is crammed with local derelicts and other boats. There is room for a very few boats to anchor along – what would be considered – the entrance channel, between Port Louis and the Grenada Yacht Club, but space is very restricted.
When entering the Port Louis area of the Lagoon, watch out for the large yellow buoys paralleling the long floating pier for use by large "Med-Moor" yachts. Navigating around and in between these buoys is difficult.
Prohibited Anchoring:
Anchoring is prohibited within 200 metres of any beach without written permission.
It is prohibited to anchor in the Grand Anse Bay south of 12′ 02.05′ north latitude. Anchoring north of St. George's harbour entrance leading lights is also prohibited. Vessels anchoring off the Ross point area must display the appropriate lights after sunset.
Marinas:
The Port Louis Marina, run by Camper & Nicholson, is a pleasant marina with very good facilities. Sunsail and Moorings have their charter boats here and the dock staff are very helpful. Berthing is on finger pontoons.
Last updated: October 2017
Security:
Dinghy and outboard thefts continue to be reported.
Outside the lagoon, a number of thefts have been reported from yachts at anchor (both locked and unlocked) in the past. It is recommended if anchoring here to leave someone on board when leaving the boat.
Two dinghy owners reported in August 2019 that their fuel had been siphoned at the Foodland dock.
A yacht at a private dock in the inner lagoon was boarded at night in August 2019 and the owner held at knifepoint while the yacht was burgled. See Related Reports for more details.
Last updated: January 2020
Related Businesses
Yacht Clubs
Related Businesses
Grenada Yacht Club

Address: PO Box 117, The Spout, Lagoon Road, St George's, Grenada,

Tel: (Office) +1 473 440 6826 (Bar) 440 3050 Fax:+473 440 6826 ,VHF Channel 16

The Club has a 44 berth dock, but reservations are required.... Read More
Courtesy Flag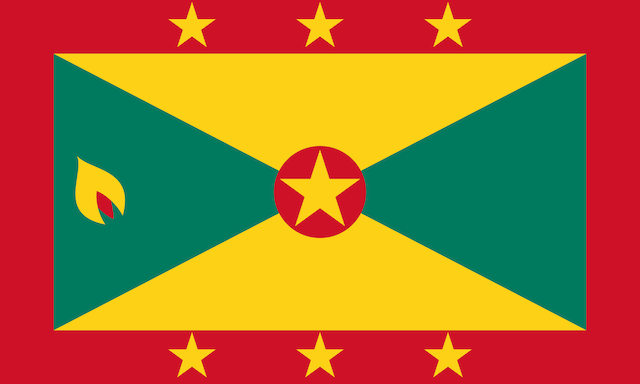 YachtFlags.com offers a discount to Noonsite members.
YachtFlags.com provides high quality courtesy flags that are manufactured in durable Knitted Polyester fabric. Knitted so that the fabric itself does not deteriorate in the constant movement that marine flags are usually exposed to, and polyester so that the flag does not weaken in the strong UV-light usually found in the main sailing areas of the world.
Use the coupon code NOONSITE_5A2B when checking out to get 10% off today.
Buy Now On YachtFlags.com
Places