Previous Page
General Info
Clarkes Court Bay is a sheltered bay on the southwest coast of Grenada, north of Hog Island. It was formerly called Woburn Bay and there is a small town call Lower Woburn.
The boatyard at Clarke's Court Bay has one of the largest travel lifts in the entire eastern Caribbean.
Position 12° 00.6'N, 061° 44.0'W (marina)
Docking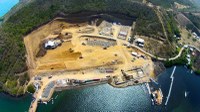 There are many anchorages as well as one marina and another one planned. There is a well-buoyed channel leading into the bay.
Clarkes Court Boatyard and Marina (originally Clarkes Court Bay Marina), is under new management and the whole area is being re-developed. The area is being developed in 3 phases, with phase 1 (the Boatyard) near to completion. Boatyard services are now available (see boatyards for more details) and the marina area will be developed in phase 2 during 2016 (see a photo taken May 2015).
Security Note: Dinghy and outboard theft and burglaries have been reported in this bay. Secure your valuables at all times, and if possible, raise your dinghy and outboard on deck at night and secure your boat from night-time boarders. Local police released two men who attempted to board a boat here at night in September 2014 and did not charge them. A locked yacht was broken into and burgled in October 2016 whilst the owners were ashore (see reports adjacent).
Last updated October 2017
Places
Clarkes Court Bay, Grenada