Previous Page
General Info
Description:
Located at the southwestern end of Grenada this large open bay is the unofficial HQ of the annual cruiser community and is often packed with boats which are at anchor, on moorings, at the marina or on the hard. The bay is completely open to the south so some continual rolling due to swells can be expected.
Cruiser Highlights:
Pleasant setting; well-organized customs and immigration; well-stocked chandleries; low-duty supplies and parts; boatyards and strong marine trades; adequate provisioning (although good supermarkets are a car-ride away); affordable restaurants and bars; good transportation including an international airport; healthcare; great hiking; local rum and chocolate; varied tourism options and international yachting events.
Cruisers VHF net runs Monday to Saturday VHF Ch 66 from 7:30 am. Standby, 68 during the day and night.
Entry notes and cautions:
Approach from south-west with caution. The Porpoises – a group of rocks located about half a mile south of Prickly Point – are sometimes awash and difficult to spot, being about 3 ft above sea level at low tide. A reef extends the full length of the eastern shore. True Blue Point should be given a wide berth owing to shoaling just offshore.
There are three large-diameter concrete and steel post channel markers on the final approaches on Spice Island haulout and the Budget Marine dock in Prickly Bay. The cruising community in Prickly Bay are doing their best to maintain the lights on these markers and ensure they are lit. See this facebook page for more details.
Great care should be taken if navigating at night. A cruiser died in December 2017 after colliding at night with one of these.
Extreme caution is advised if driving your dinghy at night here. There are a lot of darkened boats and vacant moorings to run into so drive at a sensible, safe speed.
If a tropical storm is forecast, this bay can become untenable and the moorings are not designed for holding in storm conditions. It is recommended to move your boat to a more protected anchorage to the east (Scotland Bay is a good choice), or even to Port Louis.
Position:
11° 59'38″N, 61° 45'48″W (bay entrance)
Clearance
See Grenada Formalities for detailed information on clearing into and out of Grenada, including downloadable forms.
General Process:
Customs and Immigration in Prickly Bay are in the group of buildings adjacent to Prickly Bay Marina. Note that Saturdays and Sundays are classed as "overtime" and fees are charged.
Customs and immigration can sometimes take payment by debit/credit cards if there is a machine working.
Last updated: January 2020
Related Businesses
Customs and Immigration – Prickly Bay

Address: Prickly Bay, Grenada,

Customs and Immigration are in the group of buildings adjacent to Prickly Bay Marina at the NW end of the bay.... Read More

Grenada Ports Authority

Address: The Carenage, P.O. Box 494, St. George's, Grenada,

Grenada's official ports of entry are operated and administered by the Grenada Ports Authority, which regulates and controls navigation within port limits.Information on the official... Read More
Docking
Anchorages:
Anchorage is permitted inside the bay in depths of 5.0 to 15.0 metres with good holding grounds in a mixture of sand and mud. Anchorage within 200 metres of the beach on the northern shore is prohibited.
Moorings:
There are also plenty of swinging moorings available from the marina or SafeYachts.
Dinghy docks:
On the west side of the bay, there is a dinghy dock near the Spice Island Marina boatyard; it has a restaurant and a Budget Marine store and is the location to get a bus or taxi ride to other parts of the Island.
On the east side of the bay, there is a secure dock at Prickly Bay Marina for check-in, laundry or the restaurant.
Security:
Cruisers are urged to be vigilant and to report any theft to the Coast Guard and the Police at once.
Prickly Bay Marina dinghy dock has excellent security, however, a dinghy and outboard were stolen from here in September 2019.
Marinas:
Spice Island Marina Service Co Ltd is a modern full service marina with a 35 ton travel hoist. Prickly Bay Marina is located in the heart of the bay and has customs, immigration and quarantine clearance facilities on-site.
Last updated: January 2020
Related Businesses
Courtesy Flag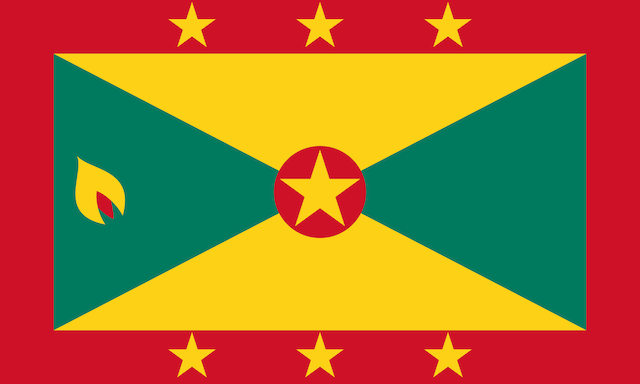 YachtFlags.com offers a discount to Noonsite members.
YachtFlags.com provides high quality courtesy flags that are manufactured in durable Knitted Polyester fabric. Knitted so that the fabric itself does not deteriorate in the constant movement that marine flags are usually exposed to, and polyester so that the flag does not weaken in the strong UV-light usually found in the main sailing areas of the world.
Use the coupon code NOONSITE_5A2B when checking out to get 10% off today.
Buy Now On YachtFlags.com
Places