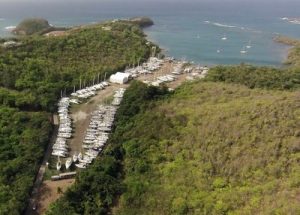 Description:
St. David's Harbour has natural barrier reefs and a peninsula on either side, which makes it extremely safe. The low rolling hills surrounding the bay are covered with indigenous trees and plants including almond and palm trees. The bay enjoys clean water and a white sandy beach.
There is no main town here, however, the Grenada Marine Boatyard has a general store, beach bar, on-site Island Water World chandlery and craft shops.
This boatyard has an extra-wide travel lift and offers hurricane storage. See Boatyards for more details.
The nearest main town is St. George's, approximately 45 minutes from St. Davids by road. There is a frequent public bus service (every 3 to 7 minutes) or the boatyard can organise a taxi/car rental.
Entrance Notes or Cautions:
St David's Point has a distinctive rock at the peninsula forming the eastern side of the harbour entrance. The channel is marked by buoys and the harbour may be used only by yachts.
International port and traffic signals apply as you travel through the two green and two red flashing channel markers. You are asked to monitor VHF Channel 16 for navigational information prior to leaving and whilst underway within the harbour.
Position:
12° 01'12″N, 61° 40'45″W (bay)