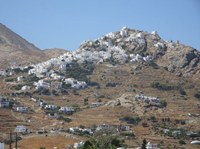 Description:
A dome-shaped island in the Middle Cyclades, roughly midway between Kithnos and Milos. Although the high ground appears barren, the island is ringed with trees and inland there are several lush, green valleys. A quiet place off the tourist map, renowned for its good food, with a wonderful "chora" (old town) perched high up on the hill (photos courtesy of SY Big Sky).
Position:
37° 08.58'N, 24° 31.0'E (harbor entrance)
Read and Post Related Comments
If you have information for this section, or feedback on businesses used, please let us know at [email protected]. We also welcome new information about businesses you have used (see Related Businesses).