Previous Page
General Info
Ayios Nikolaos is located on the north-east coast of Crete, east of the island's capital Heraklion and a 45 minute drive from the Island's International Airport.
The town can be seen from the north and east by a conspicuous white church on the summit of Nisis Ay Pantes and prominent buildings. It is a popular tourist resort but still has a delightful old town.
Many yachts choose to winter here as there is a good boatyard and shore facilities and often winds are calmer during the winter months than they are in the summer. For cruisers reports on wintering here see this report.
Yachts should go directly to the marina and avoid the main harbour. Take care, as the marina entrance does have a tendency to silt up. Normally there is a depth of at least four meters (13 ft), but if in any doubt, call the marina on VHF Channel 72 for assistance.
Position:  35° 11.11'N, 25° 42.96'E (marina entrance)
Clearance
For full details on clearing into our out of Greece see Greece Formalities.
The authorities for clearing in/out are all located in the old harbor area.
In April 2013 Cruisers warned of high clearance charges (100 Euros for a DEKPA instead of 30 Euros) in Sitia, Crete.
Docking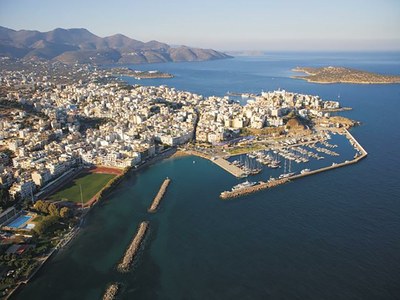 Yachts can no longer berth in the old harbor and must use the marina on the southern side of the headland, Ak Mavros Kavos (maximum LOA 50 meters/165 ft). The marina offers good shelter in all conditions, although in strong northerlies there does tend to be a surge inside the marina. Latest reports, however (see this report) are that the marina has made good efforts to combat this.
Berth where directed, picking up a tailed mooring line and proceeding bows/stern-to the quay. Depths from three – eight meters (9.8ft – 26 ft).
The marina has all the usual services including laundry on site, travel hoist, lots of hard standing, daily weather reports, boat & sail repairs etc.
There are chandleries in town with limited stock. Close to the marina entrance is the beach with cafes & restaurants and there are shops of all kinds within a few minutes walk. The local hospital is one km (0.6 miles) away.
Weather forecast (in English) on VHF Channel 85 at 06:00/10:00/16:00/22:00 UTC
Last updated: November 2017
Related Businesses
Marina of Agios Nikolaos

Address: Agios Nikolaos, Crete, Greece, 72100

Can accommodate up to 255 boats all year round.

Pontoon D is for 8-10.5 meters, Pontoons C & F 11-13 meters, Pontoon B 13-16 meters, Pontoon... Read More
Places
Ayios Nikolaos, Crete, Greece