Previous Page
General Info
This lush, axe-shaped island lies close to the coast of Albania. At its narrowest, the channel separating it is just a mile wide. Although being a popular and busy holiday destination, it is still possible to find places to enjoy its quiet beauty.
Position:  39° 37.52'N, 19° 55.62'E (Mandraki marina)
Clearance
For full details on clearing into or out of Greece see Greece Formalities.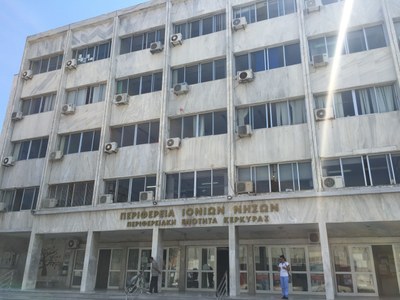 Corfu town is a Port of Entry and the central port authorities are situated at the far end (west) of the commercial port. The tax office for DEKPA payment is located in town opposite the theatre.
The easiest solution is to anchor in the bay under the Citadel and walk/bike to the authorities.
For EU boats – Useful notes on the process to follow in order to get a DEKPA here can be found in the comments section.
For non-EU boats – This is the only port on Corfu for international clearance (it is not possible at Gouvia Marina).
Authorities here are kept busy with the commercial vessels, cruise ships and ferries which dock here. They are however reported to be very friendly.
Last updated: June 2018.
Docking
photo courtesy of Chris Thorne
Port Mandraki, the old harbour below the fortress, is under the authority of the Corfu Sailing Club and offers the best shelter with the most spectacular setting. It is shallow, so go bows-to and be sure to pull yourself well off the quay with the laid lines, as there tends to be a lot of wake here from passing commercial traffic and it can get choppy in strong northerlies.
The town quay is free but is silting up so pick your spot carefully as depth is restricted in places. There is no security on the town quay and it can be noisy and smelly.
Alternatively, there is an anchorage south of the port in the bay, Ormos Garitsas. Here, there is shelter from the prevailing winds and the holding is good.
Coastguard Tel: +30 (0) 2661 32665. VHF Channel 12.
Last updated: March 2018.
Yacht Clubs
The two yacht clubs, Corfu and Naok,  both have small harbors of their own.  They are not, in general, open to visitors, though it has been reported that visiting yachts may be able to find space at the Naok YC in the offseason. Berthing is stern to, no water or electric. Be aware of electric cable running parallel to the dock, 50 meters off of the north side (see comments section –  RoseofKingston).
Places
Corfu Port (Corfu), Greece, Ionian