Previous Page
General Info
Description:
Nisos Zakinthos (Zante Island) lies south of Cephalonia just off the coast of the Peloponnese and is a most attractive island. Sadly, much of the Italian architecture which made it such a jewel was destroyed in the 1953 earthquake.
The port of Zakynthos (Port Zante) is towards the southern end of the east coast. This is a good place for shopping and re-provisioning, however, has little else going for it and can be very noisy in the summer.
Beware of the unlit buoys marking the end of a pipeline SE of the harbor entrance.
Position:
37°46.69'N, 20°54.36'E (Port Zante)
Zakinthos National Marine Park – www.nmp-zak.org
The National Marine Park of Zakynthos was founded in 1999, and is located in Laganas Bay, SE of Zakynthos. This is the most important nesting area for the loggerhead sea turtle in the Mediterranean. Restrictions for vessels anchoring here are in place from May to November every year, however, if wanting to visit at any time of the year it's advisable to inquire with local authorities at Port Zante before heading there. Fines have been given to yachts that infringe the regulations.
Clearance
This is a Port of Entry and all authorities are based in Port Zante. Immigration is just a three-minute walk from the port.
For full details on clearing into or out of Greece see Greece Formalities.
Docking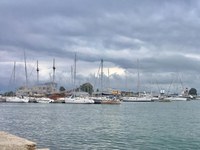 Port Zakinthos
Position:
37°46′.69N, 20°54′.36E
This is a commercial port with no working marina as such. There is a small dock adjacent to the main port which was originally intended to be a marina but, in fact, was never completed. That said fess are being charged for overnight stays. Daytripper boats moor there and there is very rarely space for any visiting yachts. Most visiting yachts moor on a first come first served basis on the main town quay.
On the town quay, yachts can berth stern-to or bows-to the NE or NW quays – where directed. Wash can be a problem here, so be sure to pull yourself a good distance off the quay and make sure your anchor is well dug in. The road that runs along the town quay can also be very noisy during the summer months.
There are a number of shipping agents that operate here who can assist you in advance with finding space on the town quay.
This harbour is less safe in the winter as strong southerly winds create a swell, even inside the harbour.
The holding is good in this harbour and the most comfortable place to be is in the NE corner clear of the ferry turning area. In the summer, the large day tripper boats that occupy the NE quay move, leaving a little more space for visiting boats. This quay has water and electricity.
The NW quay has good depth at its northern part, but is neither comfortable nor safe in a strong southerly.
Anchoring in the harbour is not permitted.
There are fuel stations around the harbour or it can be delivered by mini-tanker.
As with most town quays, rats can be a problem here, so it is important to take the necessary precautions with any mooring lines. Be sure to secure your yacht properly if leaving it for any length of time.
Port Security
Note that when a cruise ship is in port the Hellenic Coastguard close down the whole port, limiting permitted traffic to that of ferries and cruise ship passengers only. You will not be allowed to enter or leave the port whilst the cruise ship is in port (approx. 0900-1700) and will not be given any advance warning. It is recommended to enquire on arrival if a cruise ship is expected, so you can plan accordingly.
Docking/Anchoring elsewhere on Zante Island
There are some beautiful anchorages on Zante, but watch out for Katabatic gusts, restrictions according to the National Marine Park and day tripper boats.
Ormos Ay Nikolaos
Position: 37°54′.33N, 20°42′.57E
A bay on the northern tip of Zante with some shelter provided by the off-lying islet of Ay Nikolaos. There are two quays here, one on the south side of the bay and the ferry quay in the north. Lay plenty of chain as depths drop off quickly. It can get quite uncomfortable here on the quay when it's full of day-tripper boats and any swell enters the bay, and untenable with strong winds from the NE. Moving and anchoring SW of islet Ay Nikolaos approximately 50 meters from shore can be more comfortable. Dimitri also has a quay (opposite the petrol station). He offers free mooring with water (and electricity if needed) on the understanding that dinner is taken in his taverna. There are plenty of tavernas here and a mini-market.
Alykanas
Position: 37°50′.68N, 20°46′.83E
Yachts can anchor off the beach outside the swimming area in Alykanas, located on the NE coast of Zante. This is a useful spot to anchor if wanting to head around to "Wreck Bay" the following morning.
Kavos
Position: 37°50′.41N, 20°49′.18E
Also on the NE coast, this small fishing harbour is only suitable for smaller yachts drawing less than 1.5m. If space can be found this is a very sheltered spot.
Ormos Vroma
Position: 37°49′.02N, 20°38′.03E
This is a spectacular deep inlet on the NW coast of Zante, just south of the much-photographed "Wreck Bay". In settled weather, it is possible to overnight here, but take care with the strong Katabatic winds that blast down the mountainside and the very deep water. A line ashore is recommended and holding can be poor in places. In strong southerlies this bay is dangerous.
"Wreck Bay"
It is advisable to try and arrive here early in the morning and anchor close to the west side of the bay, clear of the bulk of day-tripper boats.
Last updated: June 2019
Courtesy Flag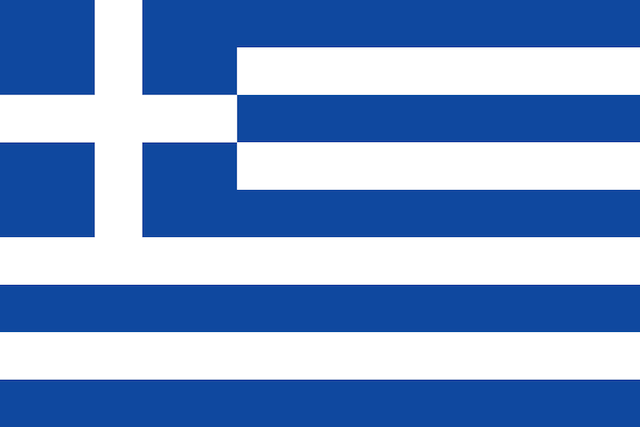 YachtFlags.com offers a discount to Noonsite members.
YachtFlags.com provides high quality courtesy flags that are manufactured in durable Knitted Polyester fabric. Knitted so that the fabric itself does not deteriorate in the constant movement that marine flags are usually exposed to, and polyester so that the flag does not weaken in the strong UV-light usually found in the main sailing areas of the world.
Use the coupon code NOONSITE_5A2B when checking out to get 10% off today.
Buy Now On YachtFlags.com