Previous Page
General Info
This is the most easterly of the Northern Sporades islands. The southern half is rugged and wooded but the northern half is more cultivated. Burial place of the poet, Rupert Brooke.
Position:  38° 50.59′ N, 024° 32.15′ E (Linaria harbor)
Docking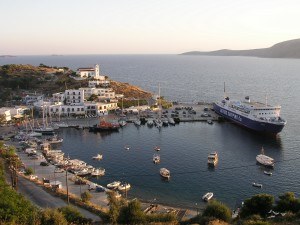 There are many anchorages around the island, but the main port is Linaria, midway down the south-west coast. This is a very organised port with services orientated around visiting yachts, although it's not the cheapest you will find in Greece. It offers excellent shelter from the Meltemi.
The port has its own website (see below), with detailed information in English for visiting yachts and good photos, a webcam etc.
There are lazy lines available on the quayside. Boats of LOA greater than 25 meters (82 ft) can drop anchor but at distance of at least 45 meters (150 ft) from the dock.
During the summer there are personnel available to assist with berthing. Call VHF Channel 09 for assistance. Also during the summer the ferry docks further out next to the lighthouse (see photo), leaving much more quay space available for visiting yachts.
The marina depths vary (3.5 meters to 10 meters.)
Water is available to passing boats on the quayside.
Last updated: June 2017.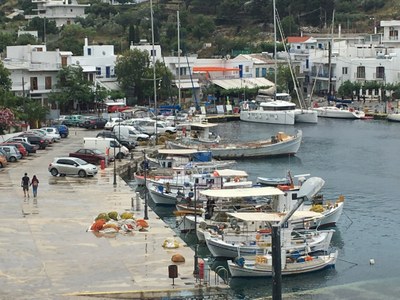 Photo courtesy of Chris Thorne (2017)
Related Businesses
Linaria Port

Address: Skyros Port Fund, Port of Skyros Island, Skiros, Greece,

A small, attractive harbor with 17 docking berths. Moor either stern/bows to or alongside on the quay - lazy lines available. Marina tender available to... Read More

Linaria Port Service & Assistance

Address: Skiros, Greece,
Places
Evia & Northern Sporades, Greece, Skiros