Previous Page
General Info
This island lies just south of Kos. It is the remains of an extinct volcano and its rich soil supports many olive and citrus groves. Palon, in particular, is an attractive spot to spend a day or two.
Position:  36° 37.18'N, 27° 10.41'E (Palon/Palos harbor)
Docking
This island has two small harbors, Mandraki and Palon, both on the NW side of the island.
Mandraki
The harbor here lies a short distance from the village itself and is an attractive place to stop in calm weather. There are several sights of interest including the Castle of the Knights of St. John overlooking the harbor, a monastery and the Paleokastro – a very well preserved acropolis from the Classical period.
This harbor is busy with fishing and day-tripper boats, so berth on either the quay or at the root of the mole where you can find space. Beware of mooring near the ferry as it creates a lot of wash as it uses its engines to hold steady against the shorelines while loading. This harbor is untenable in strong N or NE winds.
There is a daily ferry to and from Kos.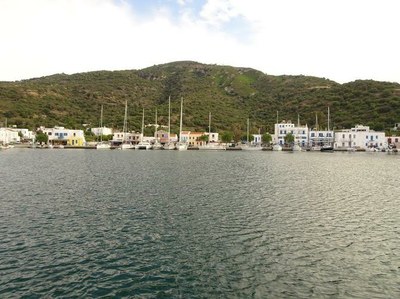 Palon
Palon (Palos) is located 3.2 kms (two miles) to the east of Mandraki harbor. It's a popular place with yachts as it's very picturesque, sheltered and a good base from which to explore the island. (Photo courtesy of Con Sprenger, SY Big Sky, who visited May 2016.)
The harbor here is continually dredged to approx 3.5 meters (11.5 ft), although the entrance is a little shallower here and there so stay close to the breakwater on entry for more depth. The entrance has also been turned around so that yachts must enter from the east, not the north. This makes the harbor much better in northerly winds and offers good shelter in a "Meltemi".
As a result of the dredging, it is possible to moor safely on either the north side or the south side of the harbor, stern or bows-to. The bottom is mud, sand and rocks, so good holding.
Both sides are now equipped with water and electricity (possible daily charge of 5 Euros a day) and most tavernas offer showers. There is also firefighting equipment. The moles have been concreted and the harbor feels a little more like a marina now. The locals are usually keen to help you in as you may want to eat in their taverna afterwards, although there is no obligation.
There is scooter hire right next to the quay for exploring the island and fuel can be delivered by mini-tanker.
Last updated:  May 2016.
Places
Dodecanese, Greece, Nisiros