Previous Page
General Info
COVID-19: OPEN
Description:
This is the largest island and the capital of the Marquesas. Taiohae the capital is a popular spot for yachts to clear in as the harbour has a dock. There are many great bays and landscapes.
Cruiser Highlights:
Facilities include fuel, a fresh market, 4G internet, hospital, post office, bank, some restaurants and various shops. There is also a very big tiki (Tuhiva) built on a hill at the edge of the bay, which is a nice meeting place with a beautiful view of the village and the bay.
There is a radio net on Mondays, Wednesdays and Fridays at 7.30am on VHF Channel 68 hosted by Kevin from Nuku Hiva Yacht Services or April and Cain on the British sailing yacht Spirit of Argo.

Entrance Notes and Cautions:
There is a defined – No Anchoring Zone – in the northern part of the bay. There are penalties for anchoring here.
Position:
08°56.28'S, 140°06.12'W (entrance to the Taiohae Bay)
Clearance
COVID-19 coronavirus: The French Polynesian authorities have implemented new entry measures in response to novel coronavirus (COVID-19). See Biosecurity for more details. Nuku Hiva is currently the only designed port of entry for the Marquesas.
General Clearance:
For full details on clearance into and out of FP go to French Polynesia Formalities.
Taiohae is the Port of Entry.
There are three Gendarmerie areas in the Marquesas: Hiva Oa, Ua Pou, and Nuku Hiva.
However, Nuku Hiva is the only Port of Entry currently open.
It is NO LONGER compulsory for all yachts visiting French Polynesia to visit Papeete Customs and Immigration to complete the clearing-in process.
The Gendarmerie Nationale in Taiohae can deal with Customs and Immigration. Currently they are only clearing yachts in between 7.30am and 10.30am. Their office is opposite the Post Office, up the hill on the right. It is not far from the dock. Both skipper and crew must attend.
If required, the bond can be purchased at the Bank Socredo, a short walk along the waterfront road. Bank Socredo also has a branch in Bora Bora where the bond will be refunded upon departure.
Alternatively, you can pay a fee and use the local agent, Yacht Services Nuku Hiva.
If you arrive without permission from DPAM you may be fined.
Customs patrol the islands and in particular Nuku Hiva, boarding as many yachts as possible. They have a list of yachts checked in and have scanned copies of their customs declaration. Officials are reported to be polite but checks could be anything from a quick look around to a very thorough opening of everything (even tapping for hidden compartments). It is important to declare properly what you have on board or you will be fined or have items confiscated. They are looking for arms, alcohol, strong medicine and pearls. Pearls without receipts are confiscated as they are trying to remove poor quality pearls from the market.
Last updated: April 2022
Related Businesses
Yacht Services Nuku-Hiva

Address: BP 301, Taiohae, Nuku Hiva, French Polynesia, 98742

Kevin and Annabella are working to provide a full range of support services to Yachts visiting the Marquesas. Based in Nuku Hiva, they provide assistance... Read More
Docking
This island offers many protected anchorages.
Taiohae Bay
Chart of the entrance into Taiohae Bay
This bay lies in the middle of the south coast. The entrance is straightforward and may be possible to enter at night, using the red flashing range lights, when aligned they provide a good entry course. Use caution if entering at night as there may be boats at anchor without anchor lights. The swell can be bad here and a stern anchor may help to face into the swell, but most boats swing freely.
The large quay is easily visible to Starboard when entering in all conditions. The area between the large quay and small municipal quay, at the end of the bay in the NE corner, is a NO MOORING zone. There is also an underwater cable, avoid anchoring near it. See image on right.
Dinghy Dock

Extreme care must be taken at the municipal quay (dinghy dock) particularly when there is swell in the bay. At low water, dinghies can end up under the wall and several cases of damaged dinghies have occurred. There is now only one ladder to get onto the quay. It is better to exit your dinghy and then move the dinghy to the southern wall by the large tires. Do not leave the dinghy further north near the local fishing boats, as dinghies have been rolled here too. Don't lift your outboard or use a stern anchor.
Fuel is available here. If no supply ship is in you can do this directly at the quay if the wind allows you by dropping anchor, reversing to the quay and using a stern line.
The Nuku Hiva Council have also introduced a fee for rubbish disposal and for taking fresh water. The fee is 750xpf per person per month and can be paid at the Mairie (town hall). Recycling is available for glass, cans, tins, plastic, batteries and used oil, so remember to separate your rubbish on passage. Proof that you've paid the fee will give you a 10% discount at the chandlery.
Photo of Anaho courtesy of Sabrina of SY Maya
Anaho
This bay is on the north side of Nuku Hiva and the approach is straight forward until reaching the coral reef in front of the beach. There is a pass in the reef which provides shore access by dinghy and small local boats. It is marked by buoys to keep you off the reef and is more visible when the tide is out.
This is a popular anchorage with good holding. Crystal clear waters let you watch small sharks and rays swimming below. The bay is well protected from swells but can suffer from strong gusts that blow down from the mountains. If you're feeling energetic, hike over to Haataivea Bay where there is a fruit and vegetable farm. Allow several hours to walk there and back, but there is a beautiful sandy beach to break your visit.
Baie du Controlleur
This is a three-fingered bay and yachts can anchor in the middle one. It is reported to be less rolly than in Taiohae Bay. You can get drinking water here at the shed at Taipevai, or just beyond the shed at Hooumi. There are three shops at Taipevai.
Last updated: May 2022
Courtesy Flag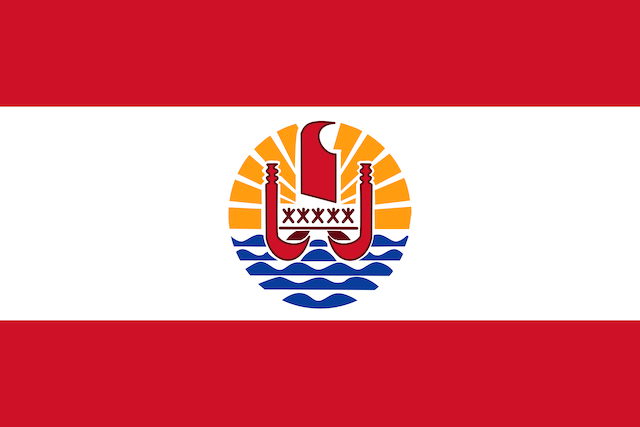 YachtFlags.com offers a discount to Noonsite members.
YachtFlags.com provides high quality courtesy flags that are manufactured in durable Knitted Polyester fabric. Knitted so that the fabric itself does not deteriorate in the constant movement that marine flags are usually exposed to, and polyester so that the flag does not weaken in the strong UV-light usually found in the main sailing areas of the world.
Use the coupon code NOONSITE_5A2B when checking out to get 10% off today.
Buy Now On YachtFlags.com
Places