Previous Page
General Info
COVID-19: OPEN PORT
Description:
Huahine lies 110 miles NW of Tahiti (or 70 miles from Moorea). Visible from Raiatea, Tahaa and Bora Bora, the two islands of Huahine Nui and Huahine Iti are connected by a bridge and have a combined area of 28 sq.miles.
The road winds 20 miles around the two islands, passing through small villages surrounded by banana, breadfruit, papaya, and mango trees. All around both islands are plantations of vanilla, coffee, taro, watermelons, and cantaloupe.
Cruiser Highlights:
Well stocked supermarket just a short walk from dinghy dock; few cars so perfect for exploring on bicycle; many secluded coves and uninhabited islets to visit.
Entrance Notes and Cautions:
Unmarked Reef south of the entrance to Fare: see details in comments.
A cruising yacht ran aground on the reef at the southern end of the island in July 2017.
There are anchoring restrictions here – see details under Docking.
Position:
16°43'S, 151°02'W.
Clearance
Fare is the Port of Entry.
Full details on clearing into and out of FP can be found at French Polynesia Clearance.
It is NO LONGER compulsory for all yachts visiting French Polynesia to visit Papeete Customs and Immigration to complete the clearing-in process.
Yachts can now clear in or out of FP with the "gendarmes" offices (French Police) at the ports of entry in the other islands (Marquesas, Tuamotus, Gambiers, Australs etc.) and complete all customs and immigration formalities in the one place.
The Gendarmerie Nationale in Fare can deal with Immigration and Customs.
Docking
Huahine has been placed on a restricted status for all boats. For sailors, it now means a maximum stay in any one place of 72 hours, and only where specific moorings have been installed. The 72h max is on one specific anchorage area, so you can stay indefinitely as long as you move between different areas inside the lagoon.
See: Arrêté n° 2997 CM du 23_12_2021

Note: As of February 2022 no new moorings have been installed and there has been no company appointed to manage the moorings and take fees. It is also not clear how the new restrictions are going to be policed. A similar system to that in Bora Bora will probably be used. So for now, no fees are being charged.
This map by the AVP gives a guide as to where moorings have been placed, how many boats are permitted in each anchorage, and for how long. Moorings are available on a first-come-first-served basis.
Smaller vessels, less than six meters in length, may continue to berth in other locations in the lagoon except passes and channels. They will be invited to park in suitable places, away from reefs and coral reefs but the duration of their stay will be limited to 24 hours.
Full details can be found on the AVP website: New Regulations for Mooring in Huahine

Photo by SY BlueFlyer
Moorings:
Mooring balls in Fare are limited. There are a number of mooring balls located in front of the
beach (convenient for the village) or alternatively south of the village close to the reef between the 2
passes. It can get rolly here in strong swells from the west. Take care with the spacing between moorings and adjust your lines accordingly to allow with yachts swinging with the change in current.
Baie d'Avea at the south end of the island is a popular anchorage. There are now a very limited number of mooring buoys inshore, with more choice further offshore in shallower depths. Avea Bay Resort (Le Mahana) is yacht friendly and has water, WiFi and laundry available (charges apply). There is a dock for easy dinghy access. This bay does have a reputation for petty theft, so be sure to lock your boat at all times and leave the deck lights on if going ashore in the evening.
Motu Murhimahora on the east side of Huahine comes recommended by cruisers as a good anchoring spot but now only has three mooring buoys. Entry is via Passe Farerea. A local called Paul, whose property fronts onto the beach here, is an incredibly warm and friendly person and will undoubtedly speak with you, not wanting anything other than friendship.
There are several mooring options in and around Bourayne Bay on the west coast, and in Haapu Bay.
This map by the AVP gives more details as to where mooring buoys have been placed and the rules re. length of stay etc. New Regulations for Mooring in Huahine should also be read to better-understand the rules.
Dinghy Docks:
There is a convenient floating dinghy dock just in front of the bar/restaurant Fare Yacht Club (this is not a Yacht Club). The restaurant has a tap on the land side of the dinghy dock. The tap is locked and the restaurant charges by the hour to access water. Mornings only.
See water for more details on where can fill up here.
Fare Dock / Dive Club can only be used with prior arrangement.
Avea Bay Resort (Le Mahana) has a dock for easy dinghy access.
Ashore:
Fare village is small with a well-stocked supermarket just a short walk from the dinghy dock, 2 banks, a pharmacy, police station and a range of small shops.
Last updated: May 2022
Courtesy Flag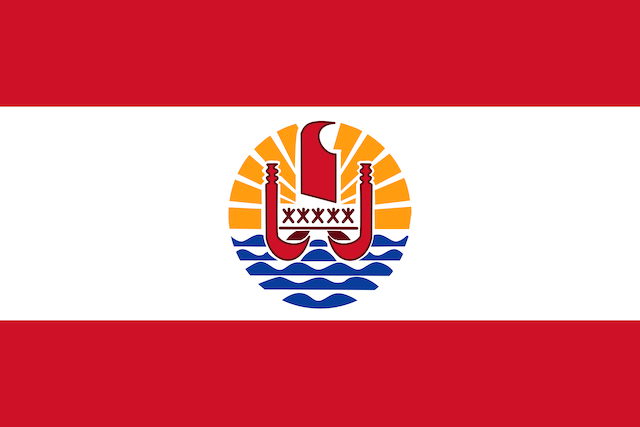 YachtFlags.com offers a discount to Noonsite members.
YachtFlags.com provides high quality courtesy flags that are manufactured in durable Knitted Polyester fabric. Knitted so that the fabric itself does not deteriorate in the constant movement that marine flags are usually exposed to, and polyester so that the flag does not weaken in the strong UV-light usually found in the main sailing areas of the world.
Use the coupon code NOONSITE_5A2B when checking out to get 10% off today.
Buy Now On YachtFlags.com
Places