Previous Page
General Info
Since Thor Heyerdahl lived here for a year in the 1920s, the island has long symbolized the South Pacific islands for many of us. The island is mysterious and the people living in the dark valley of Hanavave are somewhat special. The Baie des Vierges is perhaps the most scenic anchorage in the Marquesas.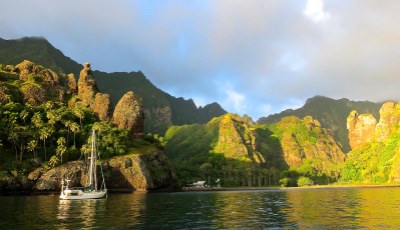 Photo of SV Jacaranda in Baie des Vierges from blog of www.jacarandajourney.com
Position 10° 27.88'S, 138° 40.10'W (bay by Hanavave)
Clearance
There are three Gendarmerie areas in the Marquesas: Hiva Oa, Ua Pou, and Nuku Hiva, and officially boats arriving from overseas should go to one of these islands first. Boats do however often stop at Fatu Hiva first.
Whilst in the past skippers have had problems with the Gendarmerie in Hiva Oa for doing so, cruisers in 2014 report that yachts were stopping in Fatu Hiva with no problems before proceeding to one of the formal clearance ports – but this may easily change. Yachts are advised to speak to other boats who have already cleared in prior to stopping in Fatu Hiva.
This is not a port of entry. The local policeman, based in Omoa, visits Hanavave every day to check on boats arriving.
Patrols by French Customs between the islands have resulted in several cruisers being fined US$200 or more, for being in Fatu Hiva without clearing in at Hiva Oa first. There were no reports of this in 2014. Customs do patrol and board vessels regularly but this is more to inspect boats and check what you had declared on your customs form on arrival.
Latest update: June 2014
Docking
There is a small harbor in the NE corner of the bay by Hanavave protected by a substantial breakwater. Inside there is a quay and launching ramp. Dinghies can be left on either. Children at the dock saying they want to see your boat are essentially looking for gifts, so decide carefully if you want them to come out to your boat with you.
Strong accelerated winds sweep down the valley and gusts of up to 50 kts or more have caused more than a few boats to drag anchor into each other in this quickly deepening anchorage. There are also parts of the bay where shallow sand exists over rock so it is essential you check your anchor is holding tight.
Small quay also in Omoa with a line where you can tie up your dinghy safely away from the big surge.
Note that dinghy thefts have been reported here, so be sure to padlock your dinghy and outboard and raise both at night.
Latest update: June 2014
Places
Fatu Hiva, French Polynesia, Marquesas