Previous Page
General Info
COVID-19: OPEN PORT
Description:
Atuona, Hiva Oa, is the most convenient Port of Entry into French Polynesia when arriving from The Galapagos Islands.
The famous painter, Paul Gauguin is buried here in the small graveyard above the anchorage.
While this is a busy stopover port for many, it's also delightful and you may find it hard to move on.
Position:
09°48.47'S, 139°02.0'W (entrance to the bay)
Clearance
COVID-19 coronavirus: The French Polynesian authorities have implemented new entry measures in response to novel coronavirus (COVID-19). See Biosecurity for more details. Nuku Hiva and Hiva Oa are currently the only two designed ports of entry for the Marquesas.
General Clearance:
Atuona is the Port of Entry.
For full details on clearance into and out of FP go to French Polynesia Formalities.
This is the most common port of entry for boats arriving from the east. No other islands (other than the ports of entry Ua Pou and Nuku Hiva) should be visited before reporting to the officials in Atuona. See Fatu Hiva for reports from cruisers there in 2019.
It is NO LONGER compulsory for all yachts visiting French Polynesia to visit Papeete Customs and Immigration to complete the clearing-in process.
Yachts can now clear in or out of FP with the "gendarmes" offices (French Police) at the ports of entry in the other islands.
The Gendarmerie Nationale in Atuona can deal with Immigration and Customs formalities. They are reported to be friendly and efficient and are located half-a-mile (1 km) uphill, open 7 days a week.
Office hours are:
Monday to Saturday: 0700 – 1200 and 1400 – 1700
Sunday: 0900 – 1200 and 1500 – 1700
You will only need to fill in one form, present your passports and boat information (registration number, radio call sign, MMSI number, sat phone number if you have one) and you are cleared.
The walk to the town takes approximately 30 minutes if you take the short cut, across the beach and up the hill. If it has been raining, this route can be very slippery underfoot so it's advisable to take the road instead, which will take an extra half an hour. There are no lights at night.
Last updated: March 2020
Related Businesses
Hiva Oa Yacht Services (HOYS)

Address: PO Box 277, Atuona, Hiva Oa, 98741

HOYS is located at the port of Tahauku, at the Sémaphore (sea rescue volunteers station). Assistance with entry formalities, duty-free fuel certificate, laundry service, internet... Read More
Docking
The anchorage at Hiva Oa
The small port of Atuona provides good shelter but can get crowded due to the number of boats checking in and a swell can arise.
If possible, anchor behind the breakwater and deploy a stern anchor to not only face into the swell/waves but also to allow more yachts to squeeze in. It is highly recommended you prepare your stern anchor ready to launch in advance, as winds commonly flow into the bay from the north while boats point into the swell from the south.
Yachts should also anchor behind two yellow posts with crosses on land on the starboard side as you enter the harbour (not easily detected). This is to keep yachts clear of the passage supply vessels which enter the harbour.
Anchorage marker, courtesy of SY Lady Jane 2019.
The depth varies from 2 to 3.5 metres so deep drafted boats may have to anchor outside the breakwater. Anchor carefully as there are underwater cables. See image above.
If a large southerly swell is predicted, boats at the end of the bay may find themselves in breaking waves.
Yacht Adina who visited French Polynesia in 2014 has written a useful article on stern anchoring – go to www.yachtadina.co.uk/sailingnotes

Getting Ashore
The dinghy can be left at the steps by the main quay (it is best to lift the dinghy onto the quay if there is a lot of surge) or by the ramp in the SE corner of the harbor. The ramp is extremely slippery so it is best to try to land at high water.
See notes above in clearance about walking into town. Alternatively, Sandra can arrive to drive you into town (see below).
A view of the anchorage at Autona, courtesy of SY Lady Jane.
Shore Facilities
There is a public telephone in the harbour but other facilities are limited. There are some outdoor showers and a place for doing hand washing.
At the old semaphore station up the road past the boatyard, is a cafe run by Sandra, open Monday -Saturday 0830 – 1030. This is a popular meeting spot for sailors. She can arrange for laundry to be cleaned, tours to Puamau to see the tikis, airport taxis etc. and will organize fresh produce if you request it. Buy a drink (she accepts USD) and you can use the internet (reported to be slow). See communications for more internet options.
Refueling can be done with jerry cans from the fuel station which is 50m from the dinghy dock. The fuel station also has an average stock of groceries including fresh baguettes in the morning and is no more expensive than the supermarkets in town. See provisions for more details.
Yacht Services
There is a boatyard with a haulout facility for monohulls and multihulls and grass hard standing. Facilities are basic, however, it is worth considering for cyclone season and repairs are possible. The boatyard can also fill cooking gas tanks and a marine supply store is planned. See Boatyards for details.
Note: The time zone here is -9.5 UTC.
Last updated: May 2019
Courtesy Flag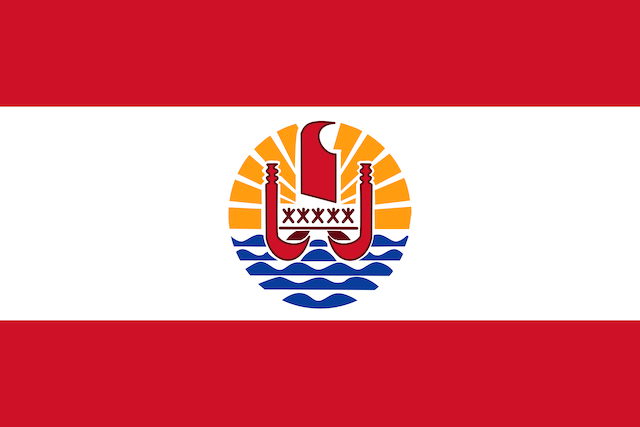 YachtFlags.com offers a discount to Noonsite members.
YachtFlags.com provides high quality courtesy flags that are manufactured in durable Knitted Polyester fabric. Knitted so that the fabric itself does not deteriorate in the constant movement that marine flags are usually exposed to, and polyester so that the flag does not weaken in the strong UV-light usually found in the main sailing areas of the world.
Use the coupon code NOONSITE_5A2B when checking out to get 10% off today.
Buy Now On YachtFlags.com
Places