Previous Page
General Info
Description:
Just a short sail from Tahiti, Moorea is the dream of a tropical island with its green mountains, white sandy beaches, and clear blue water. There is now a gendarmerie in Afareaitu and inward/outward clearance can be carried out here.
Position:
17°33'05.77″S, 149°47'23.75″ W (Afareaitu)
17°28.60'S, 149°49.51'W (entrance to Cook's Bay)
Clearance
See French Polynesia Formalities for full details of what is required for inward and outward clearance.

Afareaitu is the administrative center of Moorea and has a gendarmerie for inward/outward clearance. Located on the east coast of Moorea – opposite Papeete – the anchorage is mediocre but sufficient for clearance. There is a wharf located near the temple which gives access to the village.
Last updated: May 2022

Docking
There are several passes to choose from through which to enter the lagoon encircling the island.
Anchoring Restrictions:

Strict new anchoring restrictions came into effect in November 2019 at many of the more popular places in French Polynesia including Mo'orea. See related reports for details.
Rules were tightened further in Moorea on 10 September 2021. The number of yachts permitted in each anchorage has been greatly reduced and in some cases yachts are banned completely.
The new PGEM can be read (in French) here.
"General Orientations" concerning Moorea's PGEM by AVP can be read here.
Anchorages:
The two best anchorages, Cook's Bay and Opunohu Bay, are on the north side of this heart-shaped island and have spectacular entries. Both bays offer very good shelter.
Cook's Bay: Can be entered at night as it has a directional light. The bay is deep and wide and surrounded by volcanic peaks, however, because of this, it does fall into shade early in the afternoon. Diesel is available here at the Mobil gas station, which does have a dock but with limited depth so most boats will have to anchor off and dinghy ashore with jerry cans. There is a good supermarket ashore and other shops.
Opunohu Bay: Can also now be entered at night, with lateral marks at the reef and transit lights to line up when entering the channel. This bay is very picturesque with crystal clear water, a lovely beach and is only 4.8 kms (three miles) from stingray city, reachable by dinghy. A new, private marina is being developed and currently has a pontoon with space for six to eight boats with electricity and water available. Shore services will include showers and toilets.
Afareaitu: On the east coast, port of entry, has only a very mediocre anchorage, not recommended for long stays.
Vaiare: Seems to be the preferred anchorage for many, just 3 miles to the north. This has the only marina on the island and is also the terminal for the ferries to/from Papeete and closer to the airport. Anchoring time is restricted here to a few days.
Sofitel la Ora Hotel: Just north of Vaiare is a popular anchorage off the Sofitel Ia Ora Hotel (huts cost $1000 a night) which very clear water, so great for snorkeling. Dinghies can be taken ashore to the public beach, which is right next door to the hotel beach. There is internet access via the hotel and the village is just a short dinghy ride away. There is however a 7-day limit for anchored boats.
Security:
In 2017 cruisers reported a rise in crime here, in particular against boats anchored in Opunohu Bay. Be sure to secure your dinghy and outboard and raise both at night, as well as remove any loose items from the deck. It is advisable to leave someone onboard if going ashore at night.
Marinas:
There is a small marina at Vaiare used mainly by local boats and finding space can be hard. You may have more luck out of season. The marina office is located across the bay near the ferry docks, about a 20-minute walk. The visitors pontoon can accommodate 4-6 boats and there is a small dinghy dock. Water is no longer free.
Last updated: December 2021
Related Businesses
Marina Vaiare

Address: East Coast, Moorea, Tahiti, French Polynesia,

Pretty location with good protection. Water, electricity, showers. Fuel & provisions in small town (20 minute walk). Maximum depth in basin 2.5 meters. Laid lines.... Read More
Courtesy Flag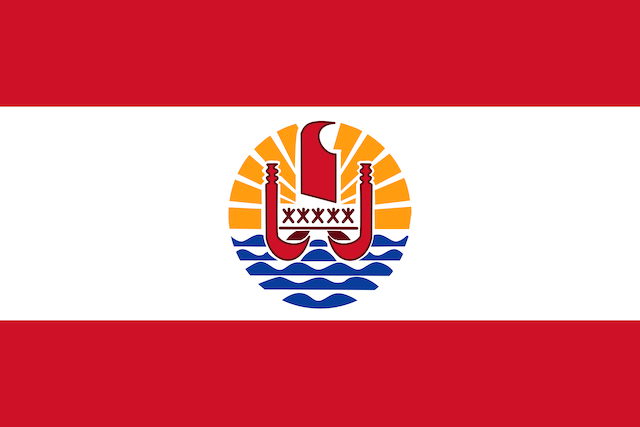 YachtFlags.com offers a discount to Noonsite members.
YachtFlags.com provides high quality courtesy flags that are manufactured in durable Knitted Polyester fabric. Knitted so that the fabric itself does not deteriorate in the constant movement that marine flags are usually exposed to, and polyester so that the flag does not weaken in the strong UV-light usually found in the main sailing areas of the world.
Use the coupon code NOONSITE_5A2B when checking out to get 10% off today.
Buy Now On YachtFlags.com
Places