Previous Page
General Info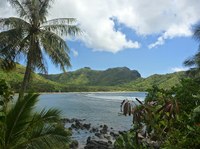 Tahiti is the largest island in French Polynesia and houses more than half the population of the country. It is a high, mountainous island surrounded by coral reefs.
Papeete is located on the northwest coast of the island, and now has a brand new marina aimed at transient cruisers.
Position 17° 32.10'S, 149° 35.20'W (harbour entrance)
Clearance
For details on Arrival and Departure Clearance in Tahiti (Papeete) and Moorea, see French Polynesia Clearance.
Before entering or departing Papeete harbour all yachts must contact the Port Captain on Channel 12 or 2683 kHz.
It is NO LONGER compulsory for all yachts visiting French Polynesia to visit Papeete Customs and Immigration to complete the clearing-in process.
However, if visiting Tahiti or Moorea (regardless of whether you have already cleared into FP elsewhere), it is compulsory to register with the Papeete Harbourmaster on arrival.
Moorea, whilst a separate island, is under the same jurisdiction as Tahiti.
Last updated: March 2016
Docking
Papeete
You must call the Port Control Traffic Tower (Vigi Du Port) to get authorization from the port authorities on VHF Channel 12:
A. Before entering or exiting the pass of Papeete (call 10 minutes before entry or exit);
B. Before mooring at Papeete Yachts Quay Pontoons or Papeete Marina;
C. Before any movement in the Papeete habour area;
D. Before crossing the east and west side of the airport runway ends. Call 5 minutes before each crossing. Wait for the "green light" from harbour control;
E. Before using the Lagoon channel, going to, or coming from Marina Taina area (forbidden at night).
Anchoring
Anchoring is strictly forbidden in Papeete harbour area (including in front of the church), however sailing yachts can drop anchor in the very outer limits of Taina and Faa'a navigation channel. Anchor lights must be switched on at night and yachts must be prepared to move if asked by harbour control.
The anchorage in Maeva bay, in front of the Beachcomber Hotel, on the West coast (close to the airport), is used by some yachts staying longer. However, this anchorage is remote from all facilities, not practical for dinghy landing and some thefts have been reported on unoccupied boats.
The Tahiti Water Ski Club (ski Nautique club de Tahiti) uses the Maeva anchorage, so boats should take care not to anchor or drive dinghies through their waterski area.
Docking
Papeete City Marina
This new marina opened in April 2015. It is advisable to try and arrive at the marina during office opening hours (see listing below) as an access card is required to get on and off the pontoons, only available from the marina office. No reservations are possible during high season, first come – first served. The marina office will want to see the boat registration and insurance. The marina operates on pre-payment only, therefore less than a one month stay the berth has to be paid for on the first day. For a several month stay, berthing has to be paid the first day of each month.
Security: There is a 24-hour guard stationed on the docks here, the marina is fenced and gates locked, however, this does not appear to have deterred thieves as break-ins and thefts continue at this marina (see reports adjacent). Best advice is to lock yourself in at night and don't leave any hatches or entries open.
Town Quay
In the past visiting yachts could also dock stern to the quay along Boulevard Pomare, a busy avenue in the heart of Papeete. However, it appears the marina now has taken up all available space here.
Although Papeete harbour can be noisy, most people prefer to stay here as it is only a few steps from the market, post office, banks, restaurants, repair facilities, and the various offices.
Outside Papeete
Visiting sailing yachts mostly anchor or moor off Marina Taina. This is located on Tahiti's west coast, about 5NM from Papeete town centre, and is administered by the Papeete Port Authority. All dock spaces are occupied by local yachts, although there are a few visitor's berths which should be booked a long time in advance, plus a visitor's quay for large yachts.
There are many mooring buoys just south and north of the marina, labeled with the letter "C", on a first come first served basis. Be aware however that whilst these moorings are checked every 3 months, they are of poor quality and have been known to break in heavy swells and high winds. Mooring fees should be paid at the Marina Taina office. Water, fuel, laundry, and garbage disposal services and use of the dinghy dock are all included.
Anchoring nearby (15 to 18m depth, but good holding) can be tight if crowded, and winds can gust up to 35/40 kts during squalls or during the Ma'aramu season (SE trade wind blowing from June to September) – beware of your scope when anchoring!
There are 3 good supermarkets and ATMs within walking distance of the marina which are very practical when provisioning for long passages. Otherwise, you will need to take a taxi everywhere.
The Tahiti Nautic Center Marina is located on the isthmus between Tahiti Nui and Tahiti Iti (about 35 NM SW of Papeete). It has haulout and repair facilities.
Last updated: November 2018
Places
French Polynesia, Papeete, Tahiti