Previous Page
General Info
COVID-19: OPEN PORT
See Biosecurity for details of the latest yachting protocol.
Description:
Langkawi is a large island off the west coast close to the border with Thailand. The island is duty-free.
With many safe anchorages surrounded by wooded cliffs, fringed at their base by mangrove swamps and a labyrinth of narrow channels accessible by dinghy, this place is a firm favourite with cruisers.
Entrance Notes and Cautions:
A yacht sunk in February at approximate position 06° 14.249'N 099° 45.603'E. The 3 masts were clearly visible above the water but it was not lit at night as beacons get stolen. It is unknown if this hazard has been removed.

Position:
06°18.25'N, 99°50.82'E (Bass harbour)
Clearance
For full details on clearance into and out of Malaysia see Formalities.
All skippers are required to do Port Clearance at the Harbor Master 's office at JETTY POINT, KUAH.
Vessels anchored in Kuah or at the Royal Langkawi Yacht Club can do all their clearance at Jetty Point.
The Customs, Immigration and Port Authority/Harbour offices are all located at the Kuah Ferry Terminal/Jetty (close to the RLYC). This is the size of a regional airport with lots of ferries coming and going from both mainland Malaysia, Penang and Thailand.
Cruisers recommend arriving here well dressed, bring your own pen and answer questions – don't ask them. Asking questions makes officials think you need help, and you may then be pressurised into employing an agent for clearance. See notes below as to what type of yachts do require an agent.
General Inward Clearance:
Immigration (Imigresen): Bring a copy of all passports and of the ship's papers (it's not possible to do this at the office). All crew and passengers will need to fill in some forms and be fingerprinted.
Marine Department (Jabatan Laut): Forms here are now all filled in online. Bring a copy of the ship's papers and they will look at your insurance (see notes below).
Customs (Kastam): Located in the International Departures Hall. Hand your last port customs clearance (Zarpe) to an officer.
Notes:
Any payments must be made before 16:00 on weekdays.
It is helpful if vessels that require inspection are located at Kuah Langkawi – Royal Langkawi Yacht Club or anchorage between Jeti Pelancongan Langkawi up until Jeti Kuah building.
For boats berthed at Telaga Harbour or Rebak Marina, use Customs and Immigration at Telaga first and then the Harbormaster in Kuah. Trying to insist on using Customs and Immigration at Kuah when you are in Rebak or Telaga only antagonizes the officers and makes life difficult for those coming behind you.
There is now a Thai consulate in Langkawi, but it does not issue visas for Thailand.
Requirements for Private Vessels
Motor Vessels/Yachts and any vessel over 24 meters, now require an Officially Approved agent to clear in and out in Langkawi. There are 12 registered immigration clearance agents currently (see list here). It is recommended to appoint an agent in advance as they are required to prepare crew and passenger lists plus to screen for any stowaway or crew/passenger that requires a visa to enter Malaysia. Costs for an agent start from MYR150.
Sailing Yachts with an auxiliary engine (or engines) are still permitted to clear in and out independently, however, using an agent is encouraged to simplify the procedure.
Any vessel with 5 or more persons on board regardless of length or tonnage is recommended to use an agent.
This rule is due to be enforced Malaysia-wide.
It is a requirement for yachts checking into Langkawi to have at least third party insurance cover for their yachts. They need to show these documents on check in and check out.
Yacht crews heading to Thailand from Langkawi will not be issued 90 days (or for some nationalities,30 days) tourist visas on their return to Malaysia unless they have been 'away' for at least seven days. It is not known whether these new regulations will soon apply throughout Malaysia, but for now, it seems likely that they are restricted to Langkawi.
All yacht crews in Langkawi must now clear with Immigration before proceeding to other destinations in Malaysia. This is also being enforced in Penang and it is thought will soon be enforced Malaysia-wide.
It is expected that AIS will be mandatory soon.
General Outward Clearance:
Visit first the Marine Department, next Customs and finally Immigration.
Last updated: July 2021
Docking
Marinas
There are marinas at the Royal Langkawi Yacht Club (RLYC), Telaga Harbour and the small island of Pulau Rebak Besar. Rebak Marina has been expanded and now has hardstand and haul-out and repair facilities. It is a safe place to leave the boat while touring the interior and is a particular favourite with long-term liveaboards. The RLYC has retail outlets, restaurants and more berths and Telaga has a fuel dock and ferry services to the nearby Thailand island of Koh Lipe. There is room for yachts to anchor inside the Telaga basin and ample anchorage outside.
Moorings
There are several safe and secure mooring areas available; Bass Harbour Moorings, in front of Kuah Town, "Hole In The Wall" Moorings on the NE coast of Langkawi and Telaga Harbour Moorings.
Anchorages
Anchoring Restrictions were introduced in 2016 for both Kuah and Telaga: Jabatan Laut Malaysia – Anchorage Areas for Yachts at Port of Langkawi (09/2016).
Bass Harbour, Kuah
This is the best year-round choice, towards the western part of the bay. Bass Harbour has two main anchorage areas; just west of the Royal Langkawi Yacht Club (RLYC) or in front of the Bella Vista Hotel. The holding is not good and it is advisable to have someone on board at all times. Yachts dragging during squalls is a problem here as is marine growth, but the main disadvantages of both anchorages are the difficult dinghy landing.
There is a dinghy dock in Kuah which has a weekly charge, in front of the Mosque, for use by yachts at anchor elsewhere. A tripper boat dock may reduce the size of the anchorage.
Telaga Harbour
Yachts can anchor behind the two artificial islands off Telaga Harbour Marina. The bottom is mud and it's quite shallow so dragging can be a problem. Sometimes it can be noisy here with traffic from jet skis, shuttle boats and music from the water park on one of the artificial islands, but mainly on weekends and not late at night.
When at anchor, yacht owners need to be living on-board (apart from the odd shopping trip etc. or visa trip to Satun for a few days). If yachts are left unattended for long periods of time, the authorities will tow the boat away.
Yachts can be asked by Jabatan Launt (Malaysian Harbours Department) to move on from any anchorage.
Security
Dinghies left in places with security, such as Jeti Pelancongan or RYLC, can be considered safe for temporary periods while ashore in daylight hours. However, as is the general rule anywhere in the cruising world, if left in remote places or with no security they are at risk and liable for theft. This also applies, while in any anchorage, for dinghies that are NOT in davits, or on deck, or not secured with heavy stainless cable and locks if they are left in the water overnight.
Last updated: May 2022
Related Businesses
Yacht Clubs
On approach to Royal Langkawi Yacht Club, you may not get radio contact on CH 69, calling by phone may be more successful.
The flood tide runs south and is strong inside the marina especially on springs. The ebb tide does not get into the marina to nearly the same extent. Many locals only leave and arrive at slack water.
Related Businesses
Royal Langkawi Yacht Club

Address: Jalan Dato' Syed Omar, Pulau Langkawi, Kedah, Malaysia, 07000

Situated in the SE corner of Langkawi Island, about 2km or five minutes drive to Kuah, the island's town centre. CQIP offices are conveniently located... Read More
Courtesy Flag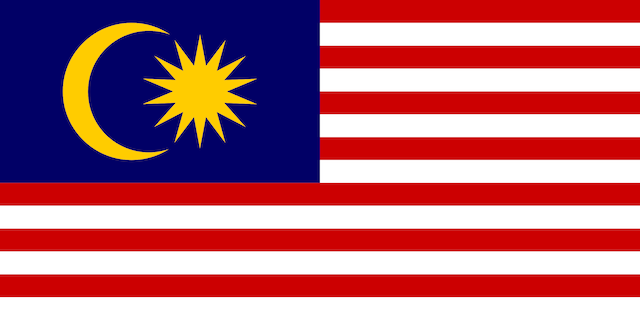 YachtFlags.com offers a discount to Noonsite members.
YachtFlags.com provides high quality courtesy flags that are manufactured in durable Knitted Polyester fabric. Knitted so that the fabric itself does not deteriorate in the constant movement that marine flags are usually exposed to, and polyester so that the flag does not weaken in the strong UV-light usually found in the main sailing areas of the world.
Use the coupon code NOONSITE_5A2B when checking out to get 10% off today.
Buy Now On YachtFlags.com
Places