Previous Page
General Info
COVID-19: OPEN PORT
Malaysia is now open to yachts coming for MRO activities only.
See Biosecurity for further details.
Description:
Johor Bahru (universally known as JB) is located in the centre of Malaysia's southern coast, immediately opposite Singapore to which it is connected by a causeway.
Approaches and Cautions:
The approach to the western side of the causeway is limited to yachts with an air draft of 25m or less.
All yachts can access Johor Bahru from the eastern side of the causeway.
The site of the original Danga Bay marina has now been filled in and the area absorbed into the huge residential development.
Position:
01°27.01'N, 103°46.20'E (causeway)
Clearance
Coronavirus – March 2020: The state of Sarawak (Malaysia Borneo) have implemented new entry measures in response to novel coronavirus (COVID-19). It's likely other Malaysian states will follow suit. See Biosecurity for more details.
For full details on clearance into and out of Malaysia see Formalities.
All yachts requiring clearance here must ensure they fly the Q flag, otherwise, they may be fined.
Yachts coming from Sebana and other ports in Malaysia also have to do harbour clearance here.
Be sure to do all clearance at Pengelih. Don't leave until you have seen Jabatan Laut and Customs and Immigration (if you need to).
Pengileh does have a marina, but it's not suitable for a cruising yacht. Anchoring just outside is tenable, and all the officials are in the same building so clearance is quick and efficient. You then proceed around the east/northeast side of Singapore to Senibong or the anchorage east of the causeway. You will see Singaporean police boats monitoring the border pretty consistently along this 20NM stretch.
Both Puteri Harbour Marina and Senibong Cove Marina can assist with clearance if you don't want to do it yourself, however, if you clear in at JB you will have to clear out at JB as well.
Take a taxi into Johor Bahru to the Harbour Master (Jabatan Laut) on the waterfront to the West of the causeway near Danga Bay. They close for lunch until 2 pm, but processing is quick. Immigration is on the second floor of The Zon ferry terminal on the East side of the causeway.
Customs are also located at The Zon ferry terminal, but they only want to see vessels for outward clearance and issue of Port Clearance after clearing out with the Harbour Master.
Immigration outward clearance is not required if stopping at further Malaysian ports on the Penninsula. Clearance is required if heading to Sarawak or Sabah on Borneo.
Many nationalities will receive a new entry stamp, which is good for a three months stay in Malaysia, each time they return across the causeway from Singapore or on arrival. However, it's best to do up-to-date research on your own situation first, as the list of permitted nationalities is ever-changing.
See this useful report about clearing in at Pengileh.
Cruisers have reported successfully applying for an Indian Visa at the Johor Bahru Indian Visa Centre.
Last updated: June 2017
Docking
West Side of the Causeway

Accessing Johor Bahru and the marinas on the west side of the causeway are only possible by yachts whose height of mast is less than 25 meters from the waterline. Sail 13 miles up the western arm of Johor Straits, past Raffles Marina and under the centre span of the Tuas Bridge, (the "Second-Link" bridge), which has a minimum vertical clearance of 25 meters at HWS. Proceed upstream, staying away from the Singapore coast and keeping close to the Malaysian mainland all the way.
East Side of the Causeway

You can easily anchor just east of the Causeway, between the new waterfront KFC and duty-free "The Zon." Holding is reported to be good and it is convenient for shopping.
There is a boat ramp and small, popular public beach where you can land your dinghy. It is not possible to park your tender at the marina police dock. Do be very wary of leaving your dinghy on the beach however, as dinghy and outboard theft is common. It is recommended to always be in sight of the dinghy.
Yachts used to be able to anchor in 4.0 to 7.0 meters with the excellent holding in mud/clay at Lat 01.28.47N and Long.103.43.37E just off Danga Bay Marina for free. However, with the closure of this marina, it is unlikely this anchorage is still available.
Photo of Puteri Harbour Marina, courtesy of SY Totem.
Marinas
Puteri Harbour Marina is situated 30 minutes away from Johor Bahru on the west side of the causeway. It is rather isolated as it is stuck in the outer reaches of Nusajaya, a planned city that's under construction and mostly uninhabited. There a hotel complex that backs on to the marina, a shopping mall with a pharmacy, ATM and newsagent but no grocery store yet. There is also a bank and post office in the fancy government buildings near the marina. This marina is also situated across the river from a Singaporean military zone so be aware that gunfire will be heard from time to time.
Photo of Senibong Cove Marina: © SY Yindee Plu
The Senibong Cove Marina is located on the eastern side of the causeway and is a 50 berth public marina set within the Sungai Lunchoo inlet. It is situated 15 minutes by car from Johor Bahru on the east side of the causeway. Cruisers reports are very positive about this marina and its management.
It is possible to make a day visit to Singapore from Senibong Cove marina. It takes between 2 to 3 hours each way. See this report for more details.
Sebana Cove is also an "east side" stop. The concern here is depth, not height restrictions. Most yachts will need at least a half tide to proceed comfortably up the river.
Crime
JB is reported to be one of the worst areas for crime in Malaysia. Take necessary precautions when going ashore and if cycling, be sure to cover baskets/crates to avoid bags being snatched.
Last updated: May 2022
Related Businesses
Country Garden Danga Bay

Address: Johor Bahru, Johore Strait, Malaysia,

"Marina" pontoon associated with the gated 5-star community with pool, restaurants, shower etc. ... Read More

Puteri Harbour

Address: Puteri Harbour Satellite Clubhouse, Lot PTD141090, Nusajaya, Johor Bahru, Johore, Malaysia, 79000

All facilities. Clearance, 24hr security, self-service laundry, cafe, chandlery, bike rental, LPG refills, free shuttles to markets, night markets, supermarkets, town and airport.Currently, no fuel... Read More

Senibong Cove Marina

Address: N- 01, Block N, Penggiran Senibong, #1 Pesiaran Senibong, Masai, Johor Bahru, Johor, Malaysia, 81750

Location: 001°29' 3.16"N ,103°49' 55.9" EOpening hours: 0800 to 1800Full facility 50 berth marina, min depth 2m. Shallow at the entrance so keeps to marked... Read More
Courtesy Flag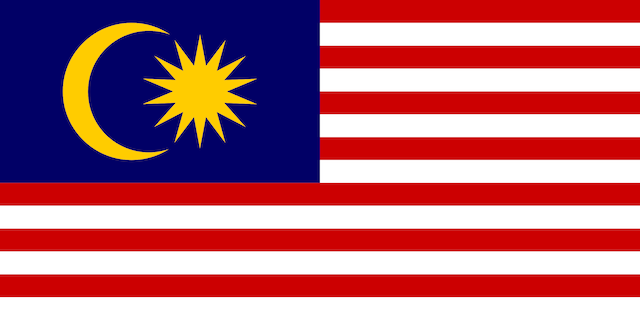 YachtFlags.com offers a discount to Noonsite members.
YachtFlags.com provides high quality courtesy flags that are manufactured in durable Knitted Polyester fabric. Knitted so that the fabric itself does not deteriorate in the constant movement that marine flags are usually exposed to, and polyester so that the flag does not weaken in the strong UV-light usually found in the main sailing areas of the world.
Use the coupon code NOONSITE_5A2B when checking out to get 10% off today.
Buy Now On YachtFlags.com
Places