Previous Page
General Info
COVID-19: OPEN PORT
See Biosecurity for details of the latest yachting protocol.
Description:
Penang is justly famed among cruisers for its medical services, superb food and provisions, developed retail sector, and its multicultural and friendly population. Services catering specifically to cruisers are sparse, but many services are available in the well developed industrial and commercial environment for those who seek them.
On 7 July 2008, George Town, Penang, was, together with Malacca, formally inscribed as a UNESCO World Heritage Site. It is officially recognized as having a unique architectural and cultural townscape without parallel anywhere in East and Southeast Asia.
Position:
05° 25'N, 100° 21'E (off George Town)
Clearance
Coronavirus – March 2020: The state of Sarawak (Malaysia Borneo) have implemented new entry measures in response to novel coronavirus (COVID-19). It's likely other Malaysian states will follow suit. See Biosecurity for more details.
For full details on clearance into and out of Malaysia see Formalities.
If you are already cleared into Malaysia, there is no longer a requirement to check in here.
This is reported to be a good place to check out of Malaysia.
As of September 1, 2016, Jabatan Laut relocated to the Jabatan Laut Wilayah Utara building on Jalan Aquarium, Gelugor, Penang.
If you are coming or going internationally (e.g. direct to or from Singapore, Thailand or Indonesia), you also need to check in or out with Immigration. The relevant office operates 24 hours a day and is in the old Immigration Building at the corner of Lebuh Pantai and Lebuh Light; enter the building by the door marked 'Bahagian Perkapalan' [Shipping Division]. For visa extensions, visit the new Immigration Building across the channel, in Seberang Prai.
Remember, in Malaysia, you must carry your passport at all times. A photocopy does not satisfy the legal requirements.
You can apply for an Indonesian visa at the Indonesian Embassy in Penang. The procedure is straightforward and takes 24 hrs approx.
Cruisers have also reported successfully applying for an Indian Visa (destination Andamans) at the Penang Indian Visa Centre.
Last updated: October 2017
Docking
With the closure of the Tanjong City Marina, obtaining a marina berth or safe anchorage in Penang can be difficult. In order not to miss all that Penang has to offer, many cruisers choose to leave their boat in Langkawi and visit Penang by ferry – staying in one of the many cheap but decent hotels in Georgetown.
Docking Options
If arriving from the south, you can travel the Western Channel (between Pulau Pinang and Pulau Jerjak) to the Marina Batu Uban. The bridge near the marina has an air height of approximately 6m at high tide. Or use the Main Channel (under the Penang Bridge), to reach the Junk Anchorage.
Arriving from the north, the Junk Anchorage is handy. Also, the new Straits Quay Marina located on the NE end of Penang Island is now an option. Or you could continue along the Main Channel, under the bridge, and round Pulau Jerjak to the Western Channel and Marina Batu Uban.
The old Tanjong City Marina in the heart of World Heritage Listed Georgetown has now closed due to heavy silting and poor repair. It may be still possible to leave your dinghy there if you anchor nearby in the Junk Anchorage, however, the docks are pretty much all broken up now.
It is no longer permissible to anchor at either the Seagate or East Gate anchorage.
Anchorages
The Junk Anchorage
Lies off the Clan Jetties (the New, Lee, Tan, Chew and Lin Jetties), 200m south of the car ferry terminal and just south of the old Tanjong City Marina.
Exposed to weather from the north and east and there is plenty of debris fouling the bottom.
It is advisable to double check that the anchor is set and holding properly. It is safer here during neap tides.
At spring tides the current can run at 3 – 4 kts and an adverse afternoon breeze of up to 20 knots can create a nasty "wind against tide" situation.
Diesel fuel is usually available from a fuel barge nearby.
The Chew jetty no longer allows dinghies to be left there. However, there is a water taxi run by Mrs Chew on (+60) 019 415 9391 or Mr Sun on (+60) 016 433 7624. The cost in 2018 was Rm5 per person each way.
The Straits Quay Marina Anchorage
The anchorage is at 05° 27″ 5′ N, 100° 18″ 09′ E, and yachts are welcome to use the marina facilities.
Located conveniently close to large supermarkets, dentists, restaurants and bars.
For contact details see the Straits Quay Marina entry below.
The Batu Uban Public Marina Anchorage
Located 0.5nm outside of the marina at the northern end of Jerejak Island and north of Queensbury Mall (05° 19″ 43′ N, 100° 21″ 03′ E).
It can only be used for a maximum of 24hrs and Jabatan Laut must be informed in advance.
There is limited dinghy space, for shore access, at the southern pontoon in the marina and a charge will be incurred.
For approval to anchor contact [email protected]. (See the Batu Uban Marina entry below for contact details for the marina).
The Fishermen's Wharf Anchorage
A very convenient location just south of Georgetown.
An anchorage can be found just west of a 600m line between 05° 23″ 64′ N, 100° 19″ 85′ E and 05° 23″ 85′ N, 100° 20″ 00′ E.
Some yachts have successfully anchored further south off Jerejak and managed to find shore access.
There is a food court at the jetty and a waterfront promenade with lots of shops and restaurants.
The security gate at the jetty is locked at 5 pm each day.
Marinas
Marina Batu Uban is on the Western Channel and is an unpretentious public marina. This marina is not convenient for sightseeing and shopping, being a 15-minute bike ride to Queensbay Shopping Mall (and buses). Anchoring off this marina in order to use it for dinghy access incurs a charge.
NOTE: The bridge in this area near the marina is NOT passable for yachts. It has an air height of approximately 6 metres at high tide.
Straits Quay Marina (photo below, courtesy of SY Totem). Entry to the marina is a little tricky at low tide since the silt outside the marina moves around. Call ahead to get information on the latest recommended track in. Maintenance dredging of the approach channel and marina basin is carried out regularly allowing access to yachts with up to the 3m draft, although entering near HW is still advisable.
Security
AHOY Penang was set up by long-term SE Asia cruiser Jennifer Rouse in May 2016, as a group for cruisers to share important information and fun things about destinations in the Straits of Melaka – Penang. It is also a good place to report any security incidents whilst cruising in Malaysian waters.
Last updated: December 2018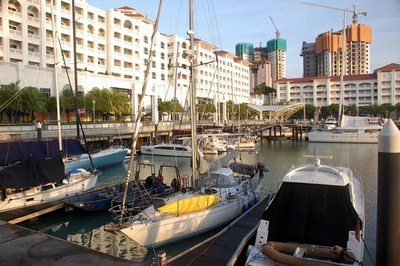 Related Businesses
Marina Batu Uban

Address: Just south of the old (northernmost) bridge, Penang, West Coast, Malaysia,

Marina Batu Uban is not a full-service marina, but Jabatan Laut officers are helpful when they have time from their official duties and have helped... Read More

Straits Quay Marina

Address: Marina Office 3B-G-3B Straits Quay, Jalan Seri Tanjung Pinang, Tanjung Tokong, Pulau Pinang, Penang, West Coast, Malaysia, 10470

This is a new marina located in Seri Tanjung Pinang, on Penang's northeast coast. It is part of waterfront development.40-berth marina with limited berths for... Read More
Courtesy Flag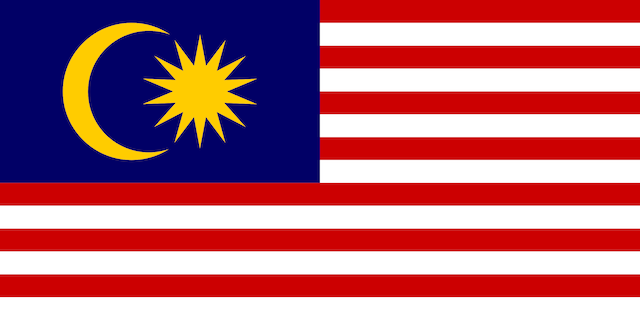 YachtFlags.com offers a discount to Noonsite members.
YachtFlags.com provides high quality courtesy flags that are manufactured in durable Knitted Polyester fabric. Knitted so that the fabric itself does not deteriorate in the constant movement that marine flags are usually exposed to, and polyester so that the flag does not weaken in the strong UV-light usually found in the main sailing areas of the world.
Use the coupon code NOONSITE_5A2B when checking out to get 10% off today.
Buy Now On YachtFlags.com
Places