Previous Page
General Info
Sebana Cove Marina is situated 5 miles up the Santi River, entrance opposite the eastern tip of Singapore Island. The initial approach from the Johor Strait should be carefully planned by skippers of deep draft vessels, as depths can drop to 2m in places.
Sebana Cove is a beautiful and remote location, and the marina and resort here are slowly being renovated (see latest comments from cruisers at bottom of page).
There is no ATM or shop here and the local town, a taxi/shuttle away, only has limited provisions. If you have already provisioned the boat and are looking for somewhere to relax, it's a good choice.
Position 01° 24.02'N, 104° 06.43'E (river entrance)
Position 01° 24.85'N, 104° 09.68'E (marina entrance)
Clearance
Docking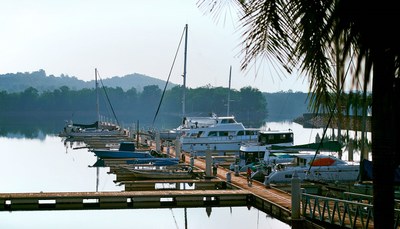 Photo from www.sebanacoveresort.com
There is a good, sheltered anchorage at the mouth of the Santi river and another close to the marina, but keep clear of the sandy bay dug into the bank of the river on the same side as the resort. Do not anchor in front of this as a small working ship comes there every day to load up.
Whilst isolated and lacking in facilities, this is a quiet and peaceful place but not the most convenient for repairs or provisions.
The surrounding resort and shoreside facilities have recently been improved and updated and is now a smart resort.
Last updated June 2017.
Places
Johore Strait, Malaysia, Sebana Cove