Previous Page
General Info
The island of Hokkaido is located at the north end of Japan, near Russia, and has coastlines on the Sea of Japan, the Sea of Okhotsk, and the Pacific Ocean. It is renowned for its volcanoes, ski areas and onsen (natural hot springs). Major cities include Sapporo and Asahikawa in the central region and the port of Hakodate facing Honshu.
Kushiro lies on the SE coast of Hokkaido and is known for the Kushiro marshes. It is an important port because it is more reliably ice-free during winter than other ports in Hokkaido such as Hakodate. Deer, sea eagles and Japanese cranes can be found here.
Position: 42° 58″ 46′ N, 144° 22″ 16′ E (entrance to the Kushiro river).
Clearance
Uniformed Customs Officers are likely to be waiting and will seek permission to come aboard and commence the paperwork. In addition to checking the ship's papers, they will issue the outbound clearance for Dutch Harbour. However, it will still be necessary to clear with Immigration before leaving and this can only be done on the day you depart, but it does not take long.
Docking
After entering the river there is a large building on the port side with MOO in large blue lettering. Tie up alongside the wharf in front of it, which is the dedicated wharf for visiting yachts (see photo below, courtesy of Jim Patek).
Ashore
Kushiro is a good location from which to depart Japan with an excellent supermarket a short distance from the MOO Building. The management of the MOO Building are helpful to cruisers and speak good English. There are several friendly locals who will help with fuel delivery using jerry cans. There is a large DIY store, however, this is not within walking distance.
Wifi and toilets are available in the MOO building.
Last updated: June 2015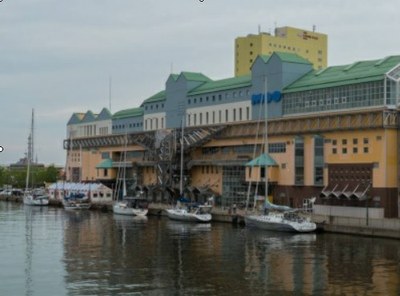 Places
Hokkaido, Japan, Other Islands (Japan)