Previous Page
General Info
Kyushu is the southwesternmost of Japan's main islands and has a sub-tropical climate. It's known for its active volcanoes, beaches, and natural hot springs.
Located in the southwest corner of Kyushu, Kasasa is a seaside resort but is primarily a fishing village. The 4-star hotel Ebisu dominates the tiny port and is on the left immediately after entering the harbour.
Position: 31° 25″ 07′ N, 130° 08″ 06′ E (harbour entrance).
Docking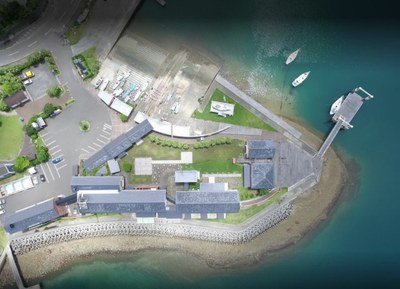 Approach
The entrance to the harbour is not easily visible and their rocks coming round the cape from the south. Avoid the Kuro Saki obstruction and leave the fish farms to starboard.
Docking
Moor up at the hotel pontoon to port immediately after entering the harbour (see photo right). 110v power and water are available on the pontoon.
Ashore
The Ebisu hotel provides free wifi, a very good "onsen" and coin-operated showers.
There are two shops in the village which have basic supplies.
Last updated: June 2015