Previous Page
General Info
Amami Oshima is the largest island in the Satsunan island chain that runs between Kyushu and Okinawa and lies about 150nm northeast of Okinawa.
It is a particularly beautiful island with white sand beaches and clear, warm waters ideal for swimming during the summer months.
Whale watching to see humpback whales has become a featured attraction in winter in recent years.
Amami Oshima is home to several rare or endangered endemic animals, including the Amami rabbit and the Lidth's jay, both of which are now found only in Amami Oshima and Tokunoshima. The Amami rabbit is sometimes called a living fossil because it represents an ancient Asian lineage that has elsewhere disappeared.
Position: 28° 08″ 60′ N, 129° 18″ 77′ E (yacht harbour entrance)
Docking
Koniya
Koniya is a small town on the south end of the island. Visiting yachts moor in a small basin constructed for visitors just to the left of the bridge alongside a wall next to a small park (see photo below, courtesy of Jim Patek). Well located but subject to surge from the wakes of fishing boats.
The town has a good supermarket and several restaurants and it is possible to hire a car here. A circumnavigation of the island can be done, by car, in half a day.
Atetsu Bay
Not only is this a very beautiful bay it is also a typhoon hole with several large moorings. It has been reported that two yachts rode out a typhoon here whilst tied to their moorings.
Naze
This is the main city on Amami Oshima. Moorings are available on the wall in the old Naze port at Nagahama offering good protection inside the main breakwater and with plenty of space. The city is about 1nm away. There are no facilities at the port.
Anchorages
There are several anchorages off Kakeraojima, which is just south of Amami.
Last updated: June 2015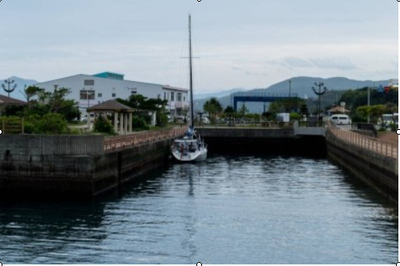 Places
Amami Oshima, Japan, Other Islands (Japan)